Northern Arizona's Mountain Living Magazine, August 2017
Written by Gail Collins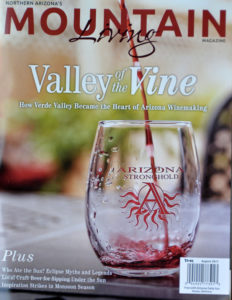 Sitting in a trattoria in Tuscany, we ordered the local red wine, served in carafes. Such stuff never leaves the country, and it was the perfect complement to the boar stew. Terroir and taste—as local as it gets.
Over several years, the locavore trend has gained momentum growing farmer's markets, restaurant offerings and Arizona's Verde Valley Wine Trail. Cultivating its success was a team effort.
Eric Glomski, owner and director of winegrowing for Page Spring Cellars and Arizona Stronghold, has been in the wine business for two decades. He shunned becoming "just another winery in California," where costs are prohibitive, and he undertook a statewide search of Arizona before calling Cornville home. His criteria for making wine were climate, soil, water supply, population proximity and demographics. The rural spot was ideal for raising a family, too. That was 14 years ago, and Glomski has learned a great deal and taught it to others, who possess the same passion.
"Since 2004, Page Spring Cellars (PSC) has become the father and mother of products personally and for others," said Glomski, who helped birth Burning Tree, Carlson Creek, Painted Lady, Gallifant Cellars and more. Winemaking expanded in the region, so he moved Arizona Stronghold to a bigger facility to become "a home for start-ups, an incubator" for making contract, custom brands.
Glomski studied the subtleties of the land and helped define the crops, such as French-American hybrids over pinot noir. Educating the public built loyalty, the industry and recognition. PSC earned 90+ points on Wine Spectator's scale, yet the bestowing of two Jefferson Cups in 2010 by the country's top officials marked a turning point. "Arizona is not imitating others—we are confident winemakers in the Arizona marketplace and beyond," Glomski said.
Winning teams comprise dedicated players, who work together. When Casey Rooney, economic development director for the City of Cottonwood, arrived 10 years ago, he recognized the potential for the wine game. "I'm a cog in the development of Cottonwood," Rooney said. Old town was underutilized and devoid of businesses then. The mission:  To bring private business to the table to advise city planning.
In 2008, with other power players, such as police-chief-turned-city-manager Doug Bartosh, the wine industry became the focus. It would act as the driver for tourist dollars. As five-year plans were enacted, ancillary business alliances exploded in old town. "We were a sleeping giant with excitement to grow," Rooney said. "We still feel the times are supercharged." Wineries, such as Javelina Leap and Alcantara Vineyards, popped up in the countryside, and a tour of Napa and Sonoma confirmed, "We could do this." Rooney called it "economic gardening," growing from within to stay local and smart. Seeking solutions to problems benefitted all entrepreneurs, and in 2014, Cottonwood rebranded as the Heart of Arizona Wine Country.