June 2007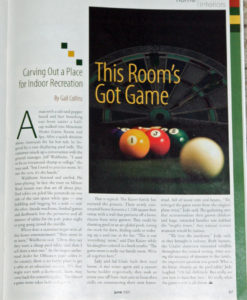 A man with a salt-and-pepper beard and hair bunching out from under a ballcap walked into Mountain Home Game Room and Spa. After a quick decision about chemicals for his hot tub, he lingered by a case displaying pool balls. The customer struck up a conversation with Jeff Waldheim, General Manager. "I used to be an intramural champ at college," the man said, "but I need to practice more. It's not the eyes, it's the hands."
Waldheim listened and smiled. He loves playing. In fact, the store on Milton Road houses toys that are all about play. Pool tables are piled like pyramids on one side of the vast space while spas—one bubbling and begging for a soak—rule the other. Arcade machines, foosball games and dartboards line the perimeter and all manner of tables for the pub, poker night or ping pong crowd the middle.
Where does a customer begin with all this home entertainment? "They come in to learn." Waldheim said, "Often they say they want a cheap pool table, and then I sell them a nice one." As the largest authorized dealer for Olhausen pool tables in the country, there is no better place to get a table or an education on one. "Or they might start with a dartboard. Then, they come back for something else." The idea of a Game Room takes hold and grows.
That is typical. The Kaiser family is enjoying the process. The newly-constructed Kaiser home features a 1,100 square-foot venue with a wall that portions off a home theater from noisy gamers. They could be shooting pool or an air-glided puck, toeing the mark for darts, dealing cards or ordering up a cool one at the bar. "This is our 'everything' room," said Dan Kaiser while his daughter colored in a book nearby. "The Game Room is really our Family Room. We're all together here."
Judy and Sal Unale built their rural home. A real estate agent and a custom home builder respectively, they took an entire year off from their jobs to focus their skills on constructing their own homestead, full of wood trim and beams. "We enlarged the game room from the original plans twice," Judy said. The gathering spot that accommodates their grown children and large, extended families was dubbed the "trophy room." Any natural science museum would be jealous.
"We love the outdoors," Judy said, so they brought it indoors. Both hunters, the Unales showcase mounted wildlife throughout the natural setting. After noting the accuracy of shooters in the family, the important question was posed—Who is the better pool player? Judy laughed. "Oh Sal, definitely. But really, we just love to have fun here." It's really what the game room is all about. NAMLM  Gail G. Collins