Northern AZ's Mountain Living Magazine, January 2017
Written by Gail G. Collins
Sitting creekside with autumn leaves strewn like golden confetti around the newly minted bride and groom, it was easy to see what had drawn my nephew, Josh, and Megan to Los Abrigados in Sedona to be married. The Spanish-styled resort with picturesque grounds next to Tlaquepaque Crafts Village—a venue in its own right—created a short-hop destination wedding for the Phoenix pair. But they are among hundreds, who choose Northern Arizona each year. Wooed by stunning scenery, plus the drama of weather and fiery sunsets yielding transcendent photography, their celebrations go from memorable to magical. In addition, these locations hold the bonus of touring for guests and a ready-made honeymoon on site for the couple.
Though the lure of the mountains and Red Rock Country is a natural choice for Arizonans, brides and grooms come from all over the country. "Ninety percent of my couples are not from Northern Arizona," said designer and event planner Kim Duncan of Kim Duncan Designs. "Often they have a family or personal connection, but many have fallen in love with the area, and they come from as far away as Washington D.C. or Manhattan." And why not? The region is a world class destination.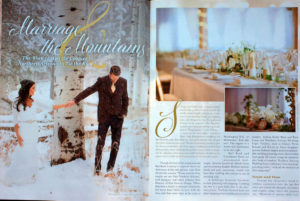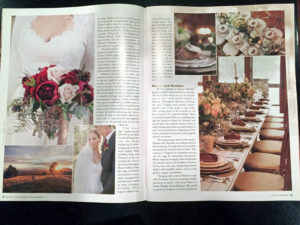 Bell Rock and Courthouse Butte are monumental landscapes. Arizona Snowbowl affords forest and mountaintop heights. Between historic hotels and patio panoramas, couples can have their wedding cake and eat it, too, in stunning style.
A wedding's foremost functions include planning and shopping. Combining the two is a great kick-start to the decision process. Northern Arizona hosts two show-stopping events each January to entice couples:  Sedona Bridal Show and Boot Camp and Northern Arizona Wedding Expo. Vendors, such as Classic Party Rentals and Events by Show Stoppers, sponsor Sedona's largest and most fashionable wedding planning event where brides find nearly 20 venues vying for attention plus loads of vendors. Northern Arizona Wedding Expo is billed as a "one-stop shop" providing brides, "with all the resources at their fingertips."