Scratch made favorites with heat and flavor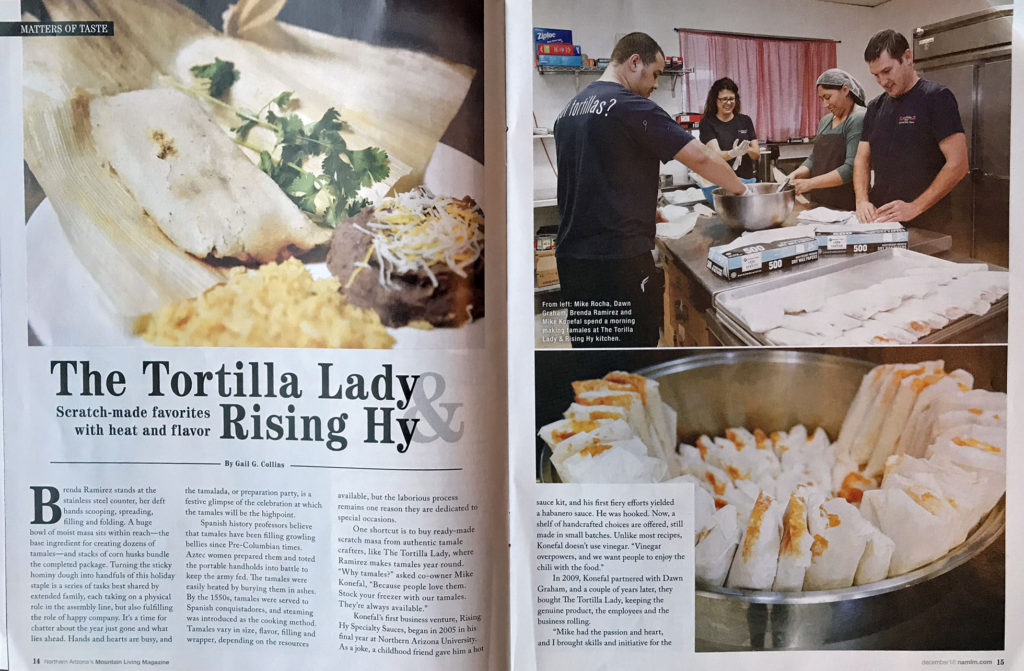 Northern Arizona's Mountain Living Magazine, December 2018
Written by Gail G. Collins
Brenda Ramirez stands at the stainless steel counter, her deft hands scooping, spreading, filling and folding. A huge bowl of moist masa sits within reach—the base ingredient for creating dozens of tamales—and stacks of corn husks bundle the completed package. Turning the sticky hominy dough into handfuls of this holiday staple is a series of tasks best shared by extended family, each taking on a physical role in the assembly line, but also fulfilling the role of happy company. It's a time for chatter about the year just gone and what lies ahead. Hands and hearts are busy, and the tamalada, or preparation party, is a festive glimpse of the celebration at which the tamales will be the highpoint.
Spanish history professors believe that tamales have been filling growling bellies since Pre-Columbian times. Aztec women prepared them and toted the portable handholds into battle to keep the army fed. The tamales were easily heated by burying them in ashes. By the 1550s, tamales were served to Spanish conquistadores, and steaming was introduced as the cooking method. Tamales vary in size, flavor, filling and wrapper, depending on the resources available, but the laborious process remains one reason they are dedicated to special occasions.
One shortcut is to buy ready-made scratch masa from authentic tamale crafters, like The Tortilla Lady, where Ramirez makes tamales year round. "Why tamales?" asked co-owner Mike Konefal, "Because people love them. Stock your freezer with our tamales. They're always available."
Konefal's first business venture, Rising Hy Specialty Sauces, began in 2005 in his final year at Northern Arizona University. As a joke, a childhood friend gave him a hot sauce kit, and his first fiery efforts yielded a habanero sauce. He was hooked. Now, a shelf of handcrafted choices are offered, still made in small batches. Unlike most recipes, Konefal doesn't use vinegar. "Vinegar overpowers, and we want people to enjoy the chili with the food."
In 2009, Konefal partnered with Dawn Graham, and a couple of years later, they bought The Tortilla Lady, keeping the genuine product, the employees and the business rolling.
"Mike had the passion and heart, and I brought skills and initiative for the combined company to grow with our goals," said Graham. "It's been a hot mess and a good outcome."
The tortilla team of eight was up to their eyeballs in flour in a 110-degree kitchen, hand-rolling and stretching 400 dozen tortillas daily. "We'd clean up from that each night, and then, start making hot sauces," said Konefal. The numerous varieties, which encompass standbys, like honey mustard, and even spices, such as Devil's Salt, precluded outsourcing the production. Inevitably, the owners expanded the space in 2017, adding a second, larger oven for tortilla fabrication, plus a separate retail space to craft tamales and sauces.
Recently, The Tortilla Lady logo was tweaked to reflect the ongoing venture while honoring the original owner's profile in the mountain. Rising Hy's longtime label, a caricature of college friend with steam shooting from his ears, launched as a graphic design graduation project.
"Part of our success is we began and still are a family of friends," said Konefal.
Local honey and flour, non-GMO products, and thoughtful recipes set the standards as product availability expands throughout Arizona. More than 15 Flagstaff restaurants and food trucks serve The Tortilla Lady tamales, tortillas and Rising Hy sauces, while outlets, like Whole Foods and Natural Grocers, offer wider shopping access. The retail space on 4th Street brims with flavored sauces and tortillas. Try the newest varieties, El Miguel or Chipotle Scorpion Pepper Stinger, to pair with tortillas, ranging from mixed flour and corn to spinach herb, chipotle, tomato basil or whole wheat.
Masa or tamales remain convenient for pick-up, but customers also can lunch on the wares. The hot lunch special includes one or two tamales, rice, beans and a beverage for $7 or $10. With three meat choices in red or green pork and green chili chicken, plus green chili corn and onion or green chili cheese, everyone can find a favorite. Take a dozen home, and feel free to mix and match the options. Striking is the size of The Tortilla Lady tamales. These are hefty handfuls of masa and flavorful fillings.
"We sell great customer service and a high-quality, local product at a competitive price," said Konefal. It's not a secret; it's simply their success. NAMLM
The Tortilla Lady and Rising Hy shop is located at 2114 N. 4th Street in Flagstaff.