Best of Flagstaff 2018
Written by Gail G. Collins
Motivation can come from many sources, even frustration. With hard work, the Garcia family turned frustration and a desire for entrepreneurship into a legacy business model for three generations of continued success. In 1957, three brothers—Sylvester, Frank Sr. and Albert Garcia—borrowed against everything they owned, including a beloved piano, to found the first La Fonda restaurant in Frank's Sunnyside home on Center Street. It seated 30 guests, and their reputation for delicious meals soon outgrew their capacity. A warehouse on the corner of Second Street and Second Avenue was renovated and tables filled up with customers ordering homemade tamales and enchiladas cooked by the wives on Center Street. Their children raced to the restaurant with the food.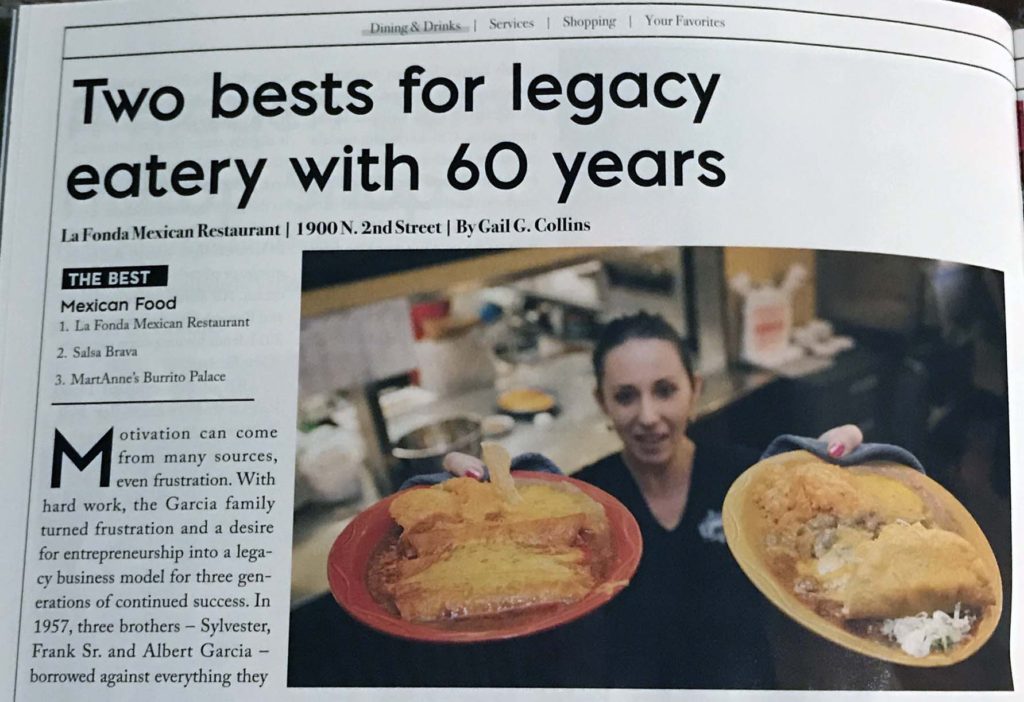 It's always been a family affair at La Fonda, and several members went on to found six restaurants in Flagstaff, Kingman and the Phoenix area. Sylvester and his son, Marty, consistently pushed La Fonda in Flagstaff forward, and in 2018, celebrated 60 years in business. At 93 years old now, Sylvester was always humble, but grandson and general manager Brandon, said, "He comes in, he cooks and makes every big decision. My father, Marty, is the president—el jefe—and sister, Stephanie, and cousin, Ruben, are managers."
The team believes showing up is 90 percent of it. Four generations have proven it. "Every Garcia born to us has worked, cooking on the line, washing dishes, whatever—it's expected," said Brandon.
The low, stucco building with arches is quintessential Mom and Pop Mexican, standing the test of time and tacos. The menu also has changed little by design and guest demands. Memorabilia menus confirm only slight alterations. Fajitas were added 20 years ago, and carnitas made an appearance a decade later. The most popular request remains the #2 Combination: cheese enchilada, tamale, shredded beef taco, tostado, rice and beans.
"It's not fancy, just good, old fashioned Mexican food." The house margarita sells by the gallons—60 to 70 gallons on average each weekend. Local drafts and Mexican beers fill the gap.
La Fonda supports the community, and the athletic programs of Coconino, Flagstaff, Chinle, Tuba City and more high schools regularly unload busses of hungry athletes to refuel. "We clear the tables to feed everyone and help anyone that calls," said Brandon.
Long-term commitment goes both ways at La Fonda. Juan has cooked for 30 years, and his assistants, Pedro and Fausto, have logged nearly 20 each. Employees have met and married there. Customers span generations, celebrations are commonplace, and cherished souls have ordered last meals from La Fonda to be delivered to hospice.
The bulk of La Fonda customers are local, and often, come in twice a week. The Navajo and Hopi Reservations are dedicated diners on trips to town. Brandon believes it the consistency of flavor and the family feel. Special pricing keeps it competitive with an $8.99 lunch offering two items with rice and beans plus a sopapilla.
Though the menu is sustained by the past, La Fonda incorporates technology with efficient online ordering, Uber Eats, and soon, a customer profile app allowing Apple Pay. La Fonda team prides itself on offering prompt attention and the best customer service overall.
The dream of three brothers has been a continual, thriving success. As double winners for Best Family Restaurant and Best Mexican Restaurant, their original aim endures. Decades ago, Sylvester explained it, "We don't believe in making our customers wait; we try to serve them as we would our own family." Brandon agreed, "They are not customers; they are family, who receive hugs and handshakes." Loyal generations recognize it and return the love. AZDailySun
1900 N. 2nd Street