Northern Arizona's Mountain Living Magazine, March 2019
Written by Gail G. Collins
When it comes St. Paddy's Day, everyone claims a bit of Irish, even if it's simply a wearing 'o the green and a proper toast: "May your right hand always be stretched out in friendship and never in want." Filling your cup is truly a Gaelic matter though, so let's travel a wee bit of Great Britain's whiskey trail.
Scotch whiskey hails from five regions in Scotland and is aged a minimum of three years in oak barrels. Single malt is made solely from malted barley, while single grain adds another grain to the mash. Each is produced at a single distillery. Two or more single malts from different distilleries create a blended malt, and a similar ratio of grains designates a blended grain. A blended whiskey, however, mixes malts and grains, and constitutes the majority of such spirits. Scotch is distilled twice, while Irish whiskey is distilled thrice. Both make a worthy whiskey.
Uptown Pubhouse in downtown Flagstaff has long encouraged raising a glass of whiskey with friends. It opened in 1993 as Uptown Billiards with pool tables and an extensive beer selection. Later, it began serving spirits, especially whiskey.
Today, owner James Jay stands behind the copper-topped bar and offers suggestions. He prefers 10-year Ardbeg Uigeadail when it's cold.
"It's peatiness is like an earthworm crawling in the soil, loamy," he said. "It's especially good with our Guinness stew." Sirloin ends are slowly simmered in broth and Guinness with onions, carrots, turnips, parsnips, and potatoes and served with dinner rolls to mop up every drop.
Jay's 15-year vision was not merely a bar, but an Irish pub that "would offer food anyone can feel comfortable with while enjoying the social component—no need to bounce from spot to spot." Nearly two years ago, Paddy's Grill opened to fill the bill. Order at the window with pager alerts for pick-up.
Chef Nick Clark launched the menu.
"It's a simple pub with a little of everything for everybody," he said. His aim includes quality fare in a tight turnaround for diners.
The true test of a pub is its fish and chips. Clark's batter is lightened with Smithwick's Irish ale and seasoned with garlic, ginger and onion. Four hearty hunks of haddock—a British standard—come with chips (fries) in a newsprint-lined red basket, reminiscent of British vendors, who serve the street food in a newspaper cornet. Douse liberally with malt vinegar, a spritz of lemon and tartar sauce.
Padddy's Reuben stacks tender, shaved slices on toasted, farmhouse-thick, marbled rye. In preparation, the corned beef is marinated in Guinness and cured for up to two days with mustard, juniper, allspice and peppercorns. The choice of sandwich sides includes fries, tater tots or beer-battered onion rings.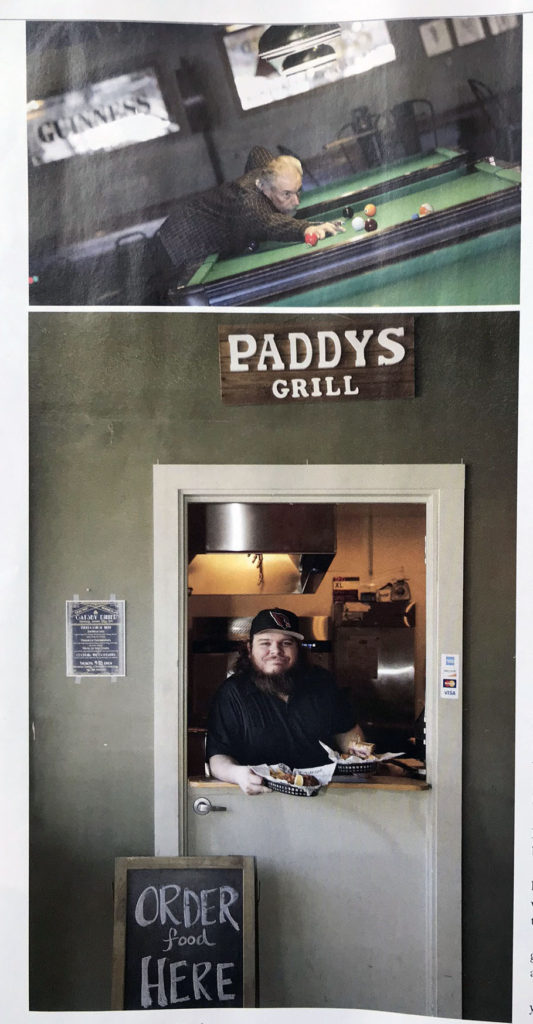 Paddy's popular appetizers are built on fries. The curried fries are slathered with classic, golden curry gravy plus a parsley sprinkle. Dig in. They're also vegan, like the Impossible™ Burger, made with heme and utilizing fermentation to achieve a browned, ground-round effect. For a bigger bite, try the barbacoa, slow-cooked with orange juice, ancho chili paste, oregano and more. The shredded heaven is heaped on cheesy fries or tater tots and capped with sour cream, avocado, jalapeños and salsa verde.
For an ooey-gooey close, choose the deep dish, chocolate chip cookie, served in a skillet with ice cream and chocolate sauce. It's enough for two.
This traditional pub offers authentic grub for St. Paddy's Day, too. Corned beef and cabbage with potatoes and carrots are available while supplies last.
"It's popular, and we sold out entirely last year," said Clark.
An Irish pub is a connection spot, and Uptown creates opportunities to do just that. Sundays offer Celtic music jams, the Literary Society meets on Mondays with books to lend, and Wednesdays are Trivia Nights.
Six billiard tables form the pub's central corridor with flags bearing coats of arms. It's not fancy, but it promises fun, as if the memory of good times lingers in the air, beckoning. A handful of regulars recognized that a dozen years ago. A snowstorm had blown through, and they warmed themselves at the bar. Aloud they mused at the number of whiskeys behind the bar and how long it would take to taste them all.
"I guessed we had about 70," said Jay, "and I began keeping track of their trials on napkins behind the bar."
It's still recorded on paper, but Uptown has over a thousand earnest sippers working their way through the bottles now. Upon completion, they will join honorees on Uptown's Scotch Wall.
Clark's favorite whiskey is Hell-Cat Maggie, an Irish spirit, of course, which also rotates as amongst the specials.
"Join me in a glass," he suggested, "or better yet, buy me one." Sláinte! NAMLM