Northern Arizona's Mountain Living Magazine, August 2019
By Gail G. Collins
Flagstaff has been a crossroads since its inception. It's no wonder that offering a bed as well as food and drink emerged as its enduring trade. To meet the growing needs of travelers, Hotel Monte Vista was built, opening on New Year's Day in 1927. Funded by prosperous area leaders, including author Zane Grey, the 73-room hotel was originally dubbed the Community Hotel before the longstanding name change to Monte Vista, meaning "mountain view." As one of the oldest continually operated hotels in Flagstaff, it is listed on the National Register of Historic Places, and the current proprietor, Jimmy Craven, celebrated 25 years of ownership in May.
Included in this legacy property on the corner of San Francisco Street and Aspen Avenue are Rendezvous and Lotus Lounge, located in what was once the town's third post office. Its evolution continues as a Pan-Asian restaurant and bar.
Genie Kuester enjoyed a longtime love of the hotel, blossoming into oversight as general manager for Lotus Lounge.
"It's a great place to work, and I love the hotel's history," she said.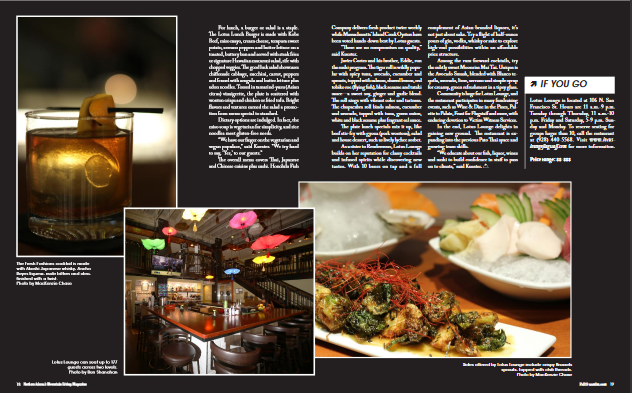 The feel is urban Asian with mod, fun accents like cheerful lanterns and maneki-neko figures, lucky Japanese waving cats. Contrasting a flat black backdrop with gleaming white tile accents, the second-level loft overlooks a U-shaped main bar with overall seating for 177 guests.
"Come in for a quick meal or drink stop or head upstairs for date night and stay awhile," said Kuester. Twinkle lights lead the way. Curated local art revolves monthly for ongoing visual appeal.
Lotus Lounge opened late in 2017 and built a cohesive core of staff quickly. The hours expanded to lunch in April and can service a turnover crowd with bento box-style choices or linger over sashimi and wine. Weekly specials keep it fresh.
For lunch, a burger or salad is a staple. The Lotus Lunch Burger is made with Kobe Beef, miso mayo, cream cheese, tempura sweet potato, serrano peppers and butter lettuce on a toasted, buttery bun and served with steak fries or signature Hawaiian macaroni salad, rife with chopped veg. The good luck salad showcases chiffonade cabbage, zucchini, carrot, peppers and fennel with arugula and butter lettuce plus udon noodles. Tossed in tamarind-yuzu (Asian citrus) vinaigrette, the plate is scattered with wonton crisps and chicken or fried tofu. Bright flavors and textures earned the salad a promotion from menu special to standard.
Dietary options are indulged. In fact, the miso soup is vegetarian for simplicity, and rice noodles meet gluten-free needs.
"We have our finger on the vegetarian and vegan populace," said Kuester. "We try hard to say, 'Yes,' to our guests."
The overall menu covers Thai, Japanese and Chinese cuisine plus sushi. Honolulu Fish Company delivers fresh product twice weekly while Massachusetts' Island Creek Oysters have been voted hands-down best by Lotus guests.
"There are no compromises on quality," said Kuester.
Javier Cortes and his brother, Eddie, run the sushi program. The tiger roll is wildly popular with spicy tuna, avocado, cucumber and sprouts, topped with salmon, shaved lemon, red tobiko roe (flying fish), black sesame and tataki sauce—a sweet, soy, ginger, garlic blend. The roll zings with vibrant color and tartness. The chupacabra roll binds salmon, cucumber and avocado, topped with tuna, green onion, white and black sesame plus fragrant eel sauce.
The plate lunch specials mix it up, like beef stir-fry with gyoza (pork wontons), salad and house dessert, such as lively lychee sorbet.
As a sister to Rendezvous, Lotus Lounge builds on her reputation for classy cocktails and infused spirits while discovering new tastes. With 10 beers on tap and a full complement of Asian-branded liquors, it's not just about sake. Try a flight of ½-ounce pours of gin, vodka, whisky or sake to explore high-end possibilities within an affordable price structure.
Among the rum-forward cocktails, try the subtly sweet Moonrise Mai Tai. Unique is the avocado smash, blended with Blanco tequila, avocado, lime, serrano and simple syrup for creamy, green refreshment in a tipsy glass.
Community is huge for Lotus Lounge, participating in many fundraising events, such as Wine & Dine in the Pines, Palette to Palate, Feast for Flagstaff and more with enduring devotion to Victim Witness Services.
In the end, Lotus Lounge delights in gaining new ground. They are expanding into the previous Pato Thai space and growing team skills.
"We educate about our fish, liquor, wines and sushi to build confidence in staff to pass on to clients," said Kuester. NAMLM