Written by Gail G. Collins
On a trip to Uruguay, I strolled the streets of Montevideo and followed my nose to a late dinner. Through the glass of a classy restaurant, their parrilla tempted other passers-by. Flames licked up the oven's sides, with wood piled nearby to feed a bank of glowing coals. Racks of ribs, chorizo, chicken, and of course, beef slowly cooked on the enormous grill. The server suggested a local bottle of Tanat to accompany a sample platter of meats. Grass-fed beef, never touched by fire, is uniquely flavorful. Even in this fine setting, barbecue, or asado, is the choice of discerning diners.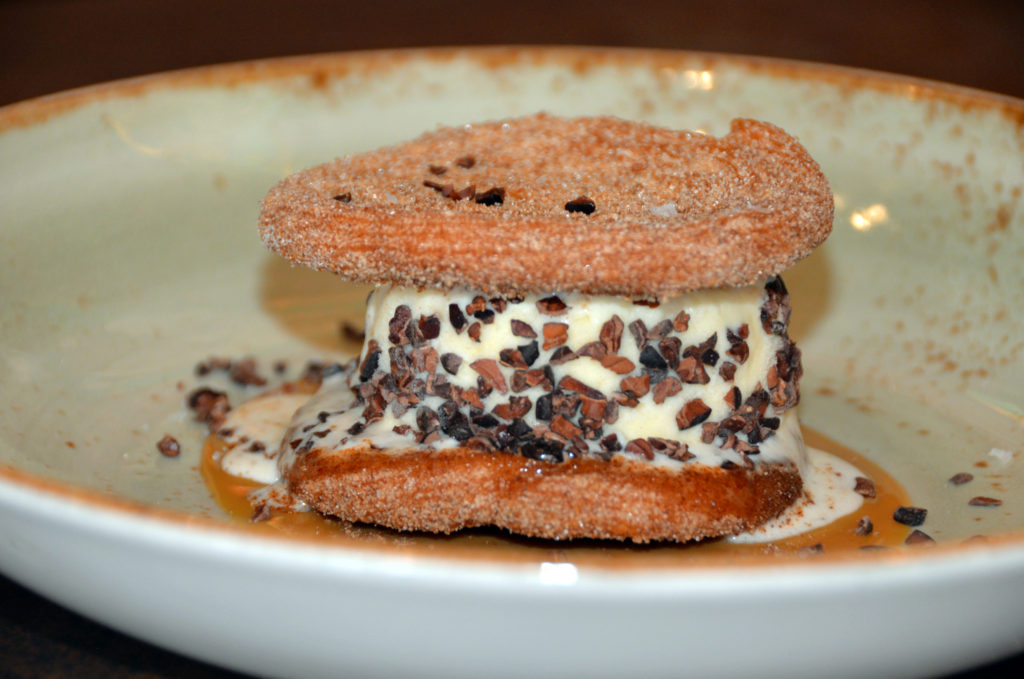 Latin America stretches from Mexico's northern border to Argentina, where the gaucho grill originated. Hospitality and warmth are the peoples' hallmark and extend to their sensual dancing and zesty cuisine. Drawing on European influences from Spain and Portugal, and infused with wider inspiration, diverse and colorful recipes emerged. Bright, bold tastes result from fresh ingredients, like cilantro, lime, poblano peppers, and sazón, a traditional seasoning of annatto, garlic, cumin, coriander, black pepper and oregano. In 2017, Technomic's Flavor report found that 68 percent of American diners rate Mexican food as their second favorite cuisine. The versatility of flavors satisfies the adventurous with empanadas, ceviche and tamales.
Such experiences drove owners Paul and Laura Moir to open Criollo in 2009. "We loved Latin food," he said. "Laura had broadly traveled Latin America, and our family regularly went to Guadalajara. Criollo was unique for Flagstaff at the time."
The menu began with tapas, but evolved following customer tastes. The dishes change seasonally, but items, like bacon nachos and taco plates, are firmly fixed per customer feedback. The couple even courted over nachos, confessed Moir, making them a staple in which the owners enjoy seeing other people indulge.
The Happy Hour menu has expanded to 15-20 choices, offering quality food at bargain prices. Six street tacos top the list. The fish taco—beer-battered catfish with a zippy ancho crema and cabbage— leads, but order a sampler to include the al pastor—slow-cooked pork shoulder with pineapple guajillo, clove and cinnamon, plus cilantro crema—and a chorizo cauliflower taco with pickled red onion, aioli and guacamole. Queso? Of courso. Especially delicious is the fundido with Oaxacan and jack cheeses layered with caramelized onion and poblano pepper, garlic confit and black beans. The hour is happier with a classic margarita or a choice of revolving flavors, like prickly pear or guava. Think tropical with a Pineapple Express, mixing mescal with juice, green chartreuse, lime, blood orange bitters and agave—summertime, anytime.
To reassess their aims, Moir and staff recently explored anew what "criollo" means. Literally, it refers to a person of true Spanish descent from Central America. For Moir, it extends to the pride and far reach of influences, such as the Caribbean or Peru's Asian impacts, through migration.
Executive chef Jay Felton increased the vegetable dishes on the menu—for example, snap peas and soy flavors are pulled from Peru. He runs a scratch kitchen of sauces, dressings, chorizo and more. Tortillas are local as is the produce from McClendon Farms. The protein is supplied via Moir's butchery, Proper Meats + Provisions, which aims to act as a wholesale supplier, giving diners all the more reason to try the steak plate.
The skirt steak is charred and tender atop smoked potatoes with a chimichurri sauce of garlic, oregano and cilantro, plus roasted corn salad and blistered shishito peppers for hearty plate of tastes. No less indulgent is the barbacoa flauta, stuffed with chuck beef braised with onion, oregano and apple cider vinegar with potato, fresh aioli coleslaw and smashed avocado.
Close out the meal with a Basque-style churro, sandwiching horchata ice cream and rolled in cocoa nibs for a creamy, passionate, Latin nibble.
Keeping things lively for chefs and clients this year, Moir introduced the Burger Battle. For eight Sundays, two chefs went head-to-head, crafting their best burgers. Guests voted for their favorite and raised money for a charity of the winner's choosing.
"Everyone in the industry is so busy running around with their hair on fire," said Moir. "This presented a great opportunity and a good cause for them."
In the end, diner loyalty builds successes, like Criollo.
"We are downtown, urban, local and casual fun in the center of it all," said Moir. "We're 10 years in, and we keep getting better." NAMLM
https://azdailysun.com/lifestyles/food-and-cooking/criollo-latin-kitchen-stands-out-with-happy-hour-menu-fresh/article_06ac478b-1e40-5525-986e-c1edceea25db.html?fbclid=IwAR2YP8KKnA1skIwQqOrsHWXavTQ1Hm_qM7OfT7UvBDK9VY47jdizQXjdscc