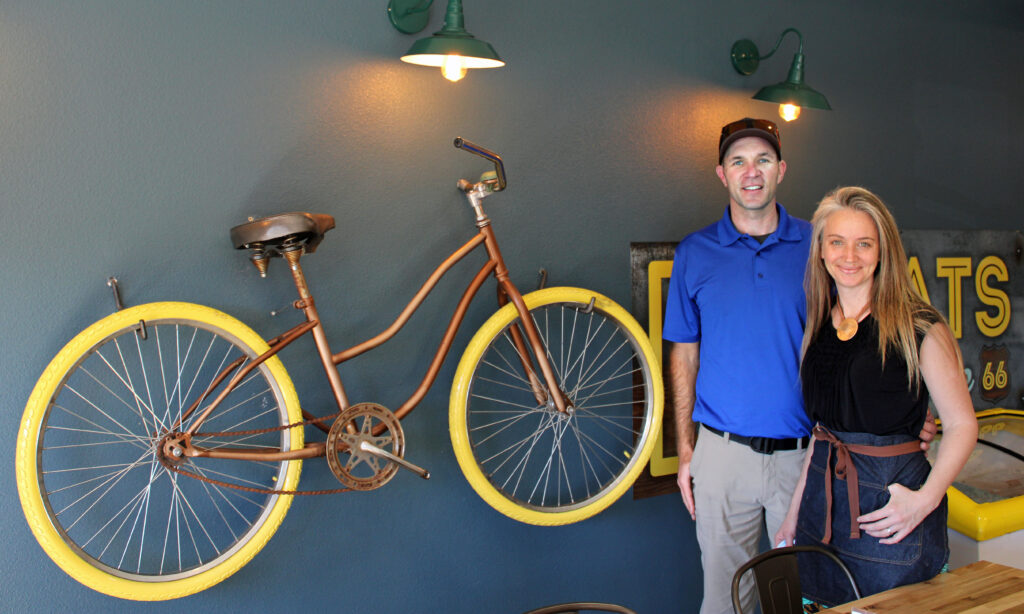 Northern Arizona's Mountain Living Magazine, May 2021
Photos and Story by Gail G. Collins
Sometimes, we take the happy things in our midst for granted. That has been the frequent refrain from new customers to a li'l Flagstaff café on the corner of Route 66 and Fourth Street.
The welcoming homey building in grey with sunny accents offers patio seating and a cheery interior. Slate and rustic wood with a fireplace, denim and yellow paint throughout and plenty of table or counter seating offers a view of the iconic Mother Road. A mural of the shop and San Francisco Peaks shows a heart in the community. Its slick clock logo with fork and knife hands reminds guests of the fast and fresh food found at Eat 'n Run Café.
Mounted on the wall, a bicycle acts as a connection point for owners Wes and Sarah Neal, who also manage Bright Angel Bicycles and Café at Mather Point. That grab and go coffee shop with pre-made products provisions their tour operations and canyon visitors.
The Neals began their original venture as a wholesale outfit with catering services. Retail took a backseat, but in 2014, their location in Sunnyside pushed them to meet the needs of convenience store customers. The couple renovated and moved into their current location in 2018.
"Sarah designed everything," Wes said with admiration, "the look and feel and pops with color."
Hailing from South Africa, Sarah's background influenced the cafe recipes. With an avocado tree in her yard, she enjoyed nutritious avocado toast long before it trended on American menus. Fresh avocado slices on crostini are topped with garlic infused olive oil, a squeeze of lemon, fresh dill, red pepper flakes and sea salt. Or go West Coast with chili cream cheese, bacon and ceviche onions.
All dressings, sauces and soups are house made with quality products.
"People like convenience, but not the usual upscale price tag," Sarah said. "We are better value for money and high on flavor."
Local vendors include Village Bakery, Tender Heart Cookies in Sedona for vegan, gluten-free enticing sweets and Firecreek Coffee Company.
At Eat 'n Run Café, there is no need to special order from the espresso bar, as many drinks are named for frequent customers. Try the fragrant, soothing Neta Bee. This lavender latte blends espresso, honey, lavender syrup and milk.
Continue reading

"Eat 'n Run Café satisfies with a fresh and convenient menu"