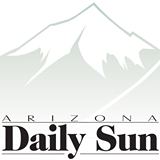 Special to the Daily Sun
Sunday, August 17, 2008
The American Cancer Society reminds us in its ads that cancer touches everyone.
Even me. We all saw the commercial. A woman trudges uphill to the narration, "I can do this, I can do this …"
I'd seen the ad 50 times and wondered — something was familiar about her.
The woman is Ann Eagan. She was also co-chair for Saturday's 20th anniversary Climb to Conquer Cancer, a cancer survivor and — come to find out — an old college friend.
"Until 2007, I climbed simply for friends, family and co-workers," Eagan said. "Then, I was diagnosed with intravascular lymphoma." Continue reading "4,000-Strong Walk for a Cancer Cure"