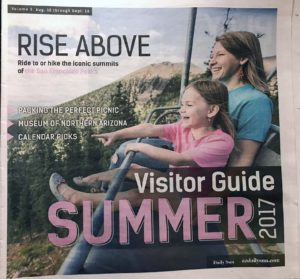 Written by Gail Collins
It's always a good day for a picnic in northern Arizona. And it's the perfect meal for a few reasons:  no need for a clean house to entertain, a tablecloth doubles as a nap blanket and al fresco feasting tastes better. Keep it simple and keep it fun by gathering your goodies at local shops. This list is not exhaustive, as Flagstaff's foodie scene continues to expand, but it provides a good start. As for the venue, numerous parks and panoramas are within easy reach.
Where to fill the basket
Planning brunch on a blanket? Swing into Macy's European Coffee House (14 S. Beaver Street). Unique combinations, like the mozzarella sandwich, bursting with fresh cheese, organic spinach, roasted red pepper, balsamic glazed onion, tomatoes and basil, create difficult, but delicious, decisions. The coffee is top-notch and grab a made-from-scratch pastry.
Tourist Home Urban Market (52 S. San Francisco Street) carries specialty items on the shelf and fresh grub to go. The daily quiche makes an easy handhold and the Cobb salad packs protein. Pastry chef Kat Beimann stocks a case of sweet surprises, too.
The deli counter at Proper Meats + Provisions (110 S. San Francisco Street) offers specialty butchered meats for the best cheesesteak outside of Philly or go global with the bahn mi of pork shoulder confit, pickled zucchini and carrot with cilantro and chili aioli.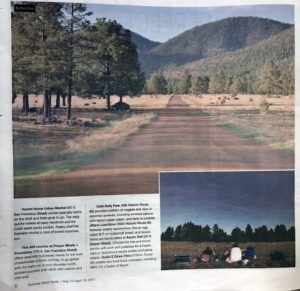 Café Daily Fare (408 Historic Route 66) provides platters of veggies and dips or assorted spreads, including smoked salmon with lemon caper cream, and tarts or cookies. Frank's, of course, carries all-beef hotdogs and Italian sausage with peppers plus snacks. Jitters Lunchbox (3504 Historic Route 66) features weekly sandwiches, like an egg salad BLT on buttermilk bread, and soups. Items are hand-crafted at Aspen Deli (20 N. Beaver Street). Choose the rise and swine burrito with pork and potatoes for a hearty start or Grandma's recipe potato and pasta salads. Go Go'Z Drive-Thru (1750 E. Route 66) boasts two food truck concepts, including BBQ, for a fusion of flavor.