Northern Arizona's Mountain Living Magazine, September 2019
Written by Gail G. Collins
In the last dozen years, Old Town Cottonwood has moved in a pointed direction with economic development. Branding itself as the Heart of Arizona Wine Country in 2014, a revitalized Main Street boasts tasting rooms, supporting nearly 25 wineries along the Verde Valley Wine Trail. The riparian environment and climate of mild winters, low humidity and limited annual rainfall provide the perfect place for grape growing. But one cannot survive on wine alone—even award-winning bottles. Ancillary business boomed alongside this to provide hotel rooms, gift shops, tours, and of course, eateries.
In January 2017, amidst a rare snowstorm, Colt 804 Grill warmly opened its doors and welcomed guests with Southern hospitality and platters of smoked meats, guaranteed to melt any reticence of desire for lip-smacking barbecue on Main Street.
"We moved to Cottonwood to be near family and created a restaurant that treats clients like friends in a homey atmosphere," explained owner Brenda Clouston. "We kept it casual with a walk-up concept to offer better pricing on a quality meal."
Colt is a family affair with staff that builds relationships, working as a team with minimal turnover. The ambience is cowboy chic, borrowing from Brenda's professional interior design skills. She created the spotted cattle hide pub stools and husband Bob with son Carson, a welder by trade, built the double-wide smoker. Bob's father crafted the bar, with inlays of walnut, alder and rosewood.
Large portions of good food at affordable prices spurred steady growth for Colt over the years. Additionally, the smokehouse caters three or four events a week. Simply choose from the a la carte menu.
"Everything can be customized and beautifully packaged for pick-up or delivery for groups," said Carson, who manages Colt. He added with a wink, "They're large portions—we tend to overcook."
It's definitely a custom kitchen, too. "Everything, except the onion rings, sweet potato fries and buns, are scratch made—the rubs, the sauces, you name it."
Nothing is ever frozen, and the beef is ground fresh daily, mixed with pork belly for a juicy burger.
"It's a taste explosion," said Brenda. The price for an 8-ounce single patty is $5.95, which is served on an eggy Brioche bun with salad toppings, a fat, homemade pickle and a slather of zippy Colt sauce.
The turkey sandwich features a thick, smoked slice of breast with hearty Applewood bacon, lettuce, tomato, pickle and a swipe of fresh mayo. Tacos of smoked chicken are served on fresh, double corn tortillas with cheese, avocado, Baja sauce and fresh pico de gallo—messy goodness.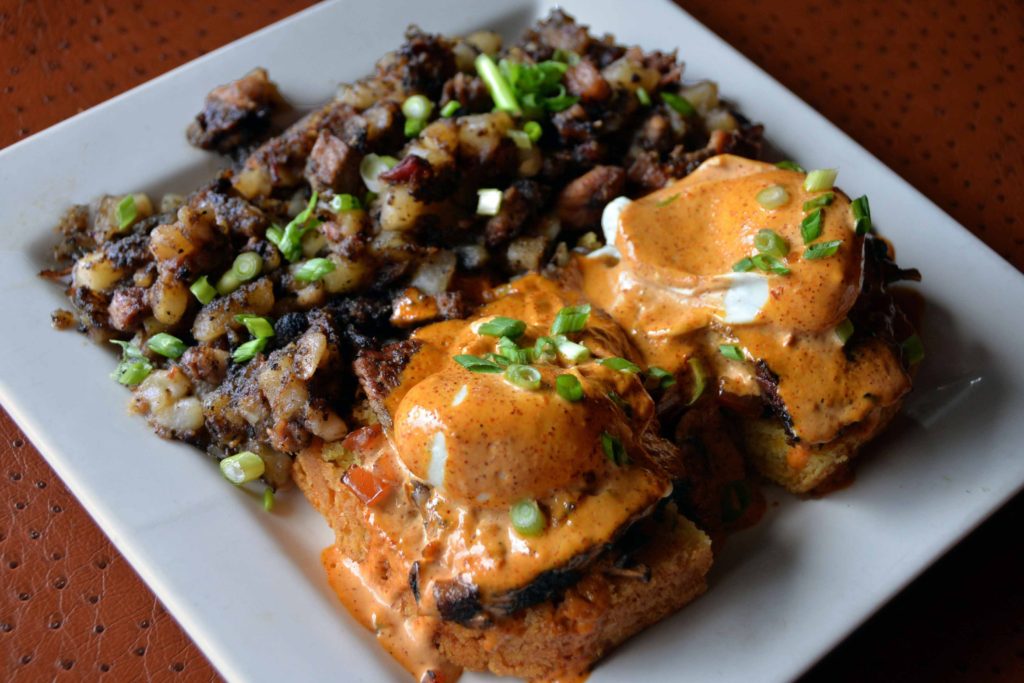 All meats are slow-smoked over white oak for a clean taste. The enormous smoker, which weighs nearly 3,000 pounds, turns out 200 pounds of brisket, 12 racks of ribs, 20 chickens and six turkey breasts daily. That, in addition to 10 trays of bacon and four gallons of beans, while smoking enormous pans of cornbread plus macaroni and cheese alongside any bar additives, such as oranges.
After more than 10 hours, the brisket is fork tender. An order of baby-back ribs counts a full dozen, and the turkey sausage is lean and crumbly with the bite of fennel. Can't decide on what to try first? Order the platter with a sampling of ribs, pulled pork, brisket, smoked turkey and brat sausage. Douse the meats in any of seven house-made sauces available. They range from subtly sweet Kansas City to Desert Heat with jalapeno and molasses to Maui Wowie with sweet onion, tequila and bacon.
Sometimes, customers proffer advice. A customer passed on his grandmother's handwritten list of 14 ingredients for the mac 'n cheese. The kitchen added further magic to hone a mature, complex, smoky pasta dish. It exudes a richness that might add a notch to your belt. For the final frontier, enjoy a simple cookie, big enough to share, bulging with goodies like oats and chocolate chips.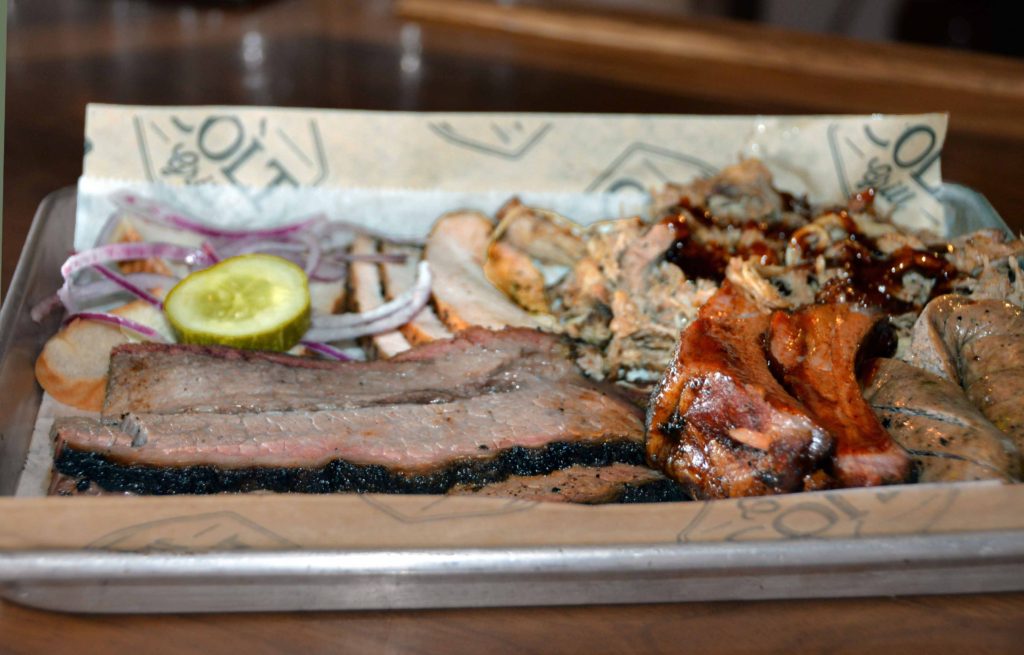 Stop in for a hearty start to your day. The eggs Benedict come in various forms, including the Black Angus with a slab of brisket and spicy Santa Fe sauce. The Vaquero omelet is stuffed with brisket and grilled poblano and red peppers, onions and pepper jack cheese. Both come with a steer-load of brisket hash.
Still, what's a grill without a bar? Colt serves a bevy of bourbons, educational whiskey flights and craft cocktails to a host of regulars.
"It' a wonderful element, pulling world-renowned bottles plus new and interesting small-batch products," said Carson.
Pull up a stool and stay awhile. NAMLM
Located: 804 N. Main St., Cottonwood. Hours: Breakfast Thursday-Mondays from 8 -10. 30 a.m. and daily for dining from 11 a.m.-9 p.m.
https://azdailysun.com/entertainment/dining/stay-awhile-for-breakfast-barbecue-and-bourbon-at-colt-grill/article_d97cd770-3e27-510e-a9a3-7d08f02ccc07.html