Northern Arizona's Mountain Living Magazine, May 2019
Written by Gail G. Collins
Food fuels our bodies, and a nutritious diet can cause synergistic, positive effects. Still, we may overlook the medicinal value it inherently supplies. Consider food as medicine. Eating well can reduce the need for drugs, while our stronger bodies perform better when at work, play and sleep.
"When diet is wrong, medicine is of no use. When diet is correct, medicine is of no need."
—Ayurvedic Proverb
Food is nature's medicine, and it has no ill side effects. To get started, don't focus on what should be eliminated from your healthy prescription, but on what can be added. That includes an abundance of proper foods. Choose local, raw, fresh and organic items, which are higher in fiber, vitamins, minerals and good fats.
The vital life force in plant-based foods naturally includes more whole foods. Despite today's latest trend, whole foods are the true superfoods. Ginger aids digestion, turmeric fights inflammation, legumes are antioxidants, honey boosts immunity and energy, while raw nuts, seeds and oils offer nutrients, cardiovascular health and joint lubrication. Try adding one whole food at meals and build a wholesome diet. Also, look for healthy options for meals out.
Morning Glory Café has had a reputation for healing foods since 1985 when Maria Ruiz created recipes for "conscious cooking." Before anyone talked about sustainability, Ruiz sought ways to practice it in her meals and the methods surrounding them. In 2009, Ruiz left her "crack in the universe" (a beloved reference to Morning Glory) for the Great Beyond. Longtime friend and employee Julia Bianconi became caretaker of the small spot on South San Francisco Street. She carries the goals forward, striving for nourishing and delicious fare with zero waste through cyclical composting, grey water and gardening.
Bianconi, or Juls as she warmly introduces herself to guests, said, "Since taking over, an infinity of miracles has sustained us," referring to the challenges of evolving business.
Recently, Jonathan Wright came alongside to consult, activating ideas and providing direction at Morning Glory. With an international background in food preparation and herbology for its medicinal value, a great deal of transition has been in the works. Vegan and gluten-free enhancement in dishes and new recipes feature. Adding a tonic bar broadened and enhanced the variety of nutrient-dense beverages. Chocolate features largely, and no one complains about that.
Chef Miles Martin, who launched the kitchen for Nomads Global Lounge combined his confection experience with Wright's to concoct vegan chocolates. Gorgeous truffles incorporate Sacred 7 Mushroom Organic Extracts, which includes: Shiitake, reishi, turkey tail, chaga, maitake, cordyceps and lion's main. These ancient medicinal mushrooms reduce inflammation and cholesterol while stimulating virility and neuroregenerative effects. Martin has expanded the confectionary case with gluten-free options, such as double-chocolate cookies and tofu chocolate mousse pie.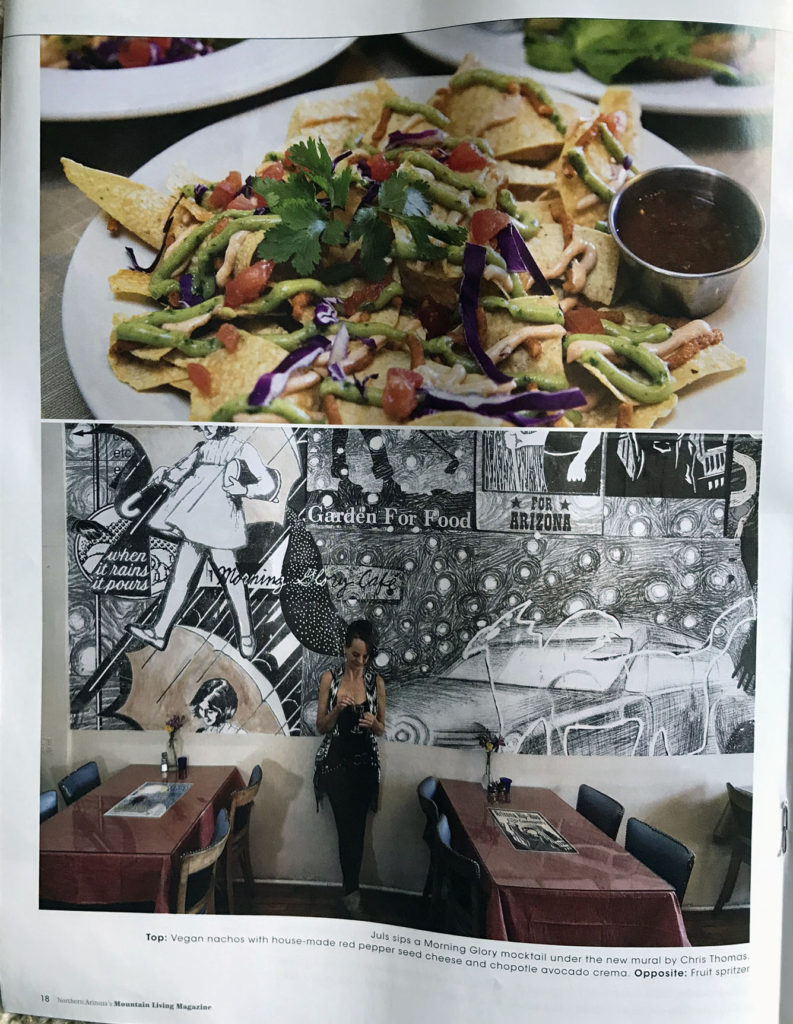 Morning Glory has enlarged its menu offerings with specials, including various soups, like a brilliant borscht. The blue corn tamales mix masa with calabacitas, or try the sweet potato with shiitake and a mélange of veg. Chile rellenos, filled with tofu scramble and drizzled with chipotle and avocado crema, create crunchy heat. The hefty hemp burger deluxe is topped with grilled tempeh and avocado crema and cilantro walnut pesto plus veganese on a whole wheat bun piled with greens. The rice paddy burger is "meaty" with shiitake and black wild rice.
Morning Glory's new Healthy Happy Hours run from 2 to 4 p.m. Fridays through Sundays. Try the house made roasted red pepper seed cheese and crackers or the seed cheese on nachos with the crema works. The mocktails, such as a jun and tonic or elderberry cordial, often utilize root extracts and tinctures for vitality. Jun hails from ancient China as the elixir of life.
"They take you on sophisticated journeys," said Juls. "They're herbal, exotic and full of flavors to savor." Smoothies, like the superfuel with turmeric and organic greens or Berry Coconut's bright burst and crunch, tempt as tasty, nourishing alternatives to alcohol.
In a hurry? Take home some exclusive dry goods, such as nori seed crackers, spiced mushroom cocoa or blue corn pancake mix.
The overall expansion of Morning Glory also encompassed a remodel. New flooring, murals by Chip Thomas, patio seating in the garden, plus access to the neighboring yoga studio make an integrated space that nourishes the body and invites respite.
In the end, as Wright put it, "Our philosophy supports things bigger than us with a softer footprint. When we care for ourselves, we also care for those around us and the planet in the process." NAMLM
Morning Glory Cafe is located at 115 S. San Francisco St. and is open 9 a.m. to 4 p.m. Tuesday-Sunday.