FlagLIVE! February 20, 2020
Photos and Story by Gail G. Collins
Our inclination toward a good thing is to enjoy and preserve it. For four decades, that's been the case as coffee lovers consistently crowd Macy's European Coffee House and Bakery, south of the tracks in downtown Flagstaff. The town's first roaster and coffee house opened in 1980, and many who came to love it as students at Northern Arizona University are happy to see it just as they remember it all those years ago.
Owner Tim Macy, who prefers the term caretaker, feels that timelessness is part of the coffee shop's intrinsic charm.
"Everyone is welcome in a spirit of unity—treated with respect and love," he says. "Macy's is a microcosm of what the world will be one day."
With an easy smile, he then quips, "I got lucky—people loved Macy's."
It was more than luck; it was knowledge, determination and firm principles that propelled Macy's idea to open a coffee house. It was also a man named Carl Diedrich, a German who had—after fighting at the Battle of the Bulge, marrying into a family coffee, tea and cocoa business, studying the coffee industry in Naples, Italy, and purchasing a coffee plantation in Guatemala—built a retail coffee business from his garage with a hand-fabricated roaster. Macy was inspired to learn from the innovator and self-taught man but initially struggled to reach him. Finally, he convinced Diedrich to teach him the trade when he showed up at his strip mall shop in Costa Mesa, California.
"Once a week, I would buy a pound of the best coffee I'd ever had in my life and hang around to learn the business," Macy says.
Following what became a three-year mentorship, Macy chose to open his own shop in Flagstaff because of its college setting and great potential. He bought equipment and rented the space where Middle Earth Bakery had been. His first roaster, hand-built by Diedrich's son, took center stage in the front window. In February 1980, with little more than a penny left to his name, Macy opened his doors.
At this point, Macy needed to educate the public about coffee. At the time, 99 percent of the best coffee was imported to Europe with a paltry amount making its way to the U.S. Macy would change that by serving 50-cent espressos and classy cappuccinos. People were captivated by the aroma of coffee roasting. It even caused a stir with the local fire department.
"For the first year, every few weeks, the fire department showed up, thinking there was a problem," Macy recalls.
Diedrich supplied the coffeehouse with beans for 10 years before Macy began an alliance with Erna Knutsen. The "godmother of specialty coffee," as she was known, traveled the world, reinvesting locally and promoting growers' schools long before the advent of the fair-trade trend. Knutsen won the Specialty Coffee Association of America's Lifetime Achievement Award in 1991, and was again honored as a founder of the specialty coffee industry in 2014. Today, Macy works with small-source farms, paying above fair-trade prices.
For all those reasons, Macy assures, "Now in Flagstaff, we have the best coffee in the world. You can find a similar product, but nothing better."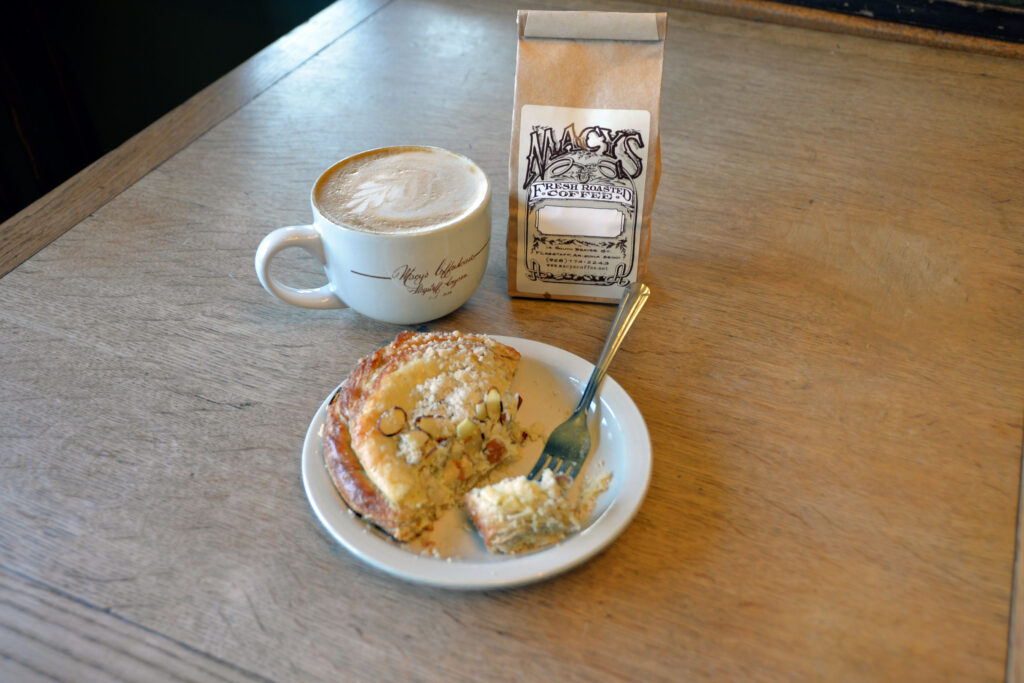 Macy's has long thrived on rare relationships. Early on, a gal applied for work at the coffee shop. As incentive, the budding artist flashed a sketch of a person, soaking in a cup of coffee bliss, drawn on a napkin. The student had limited availability so couldn't be hired, but Macy paid her for the sketch, dubbed "the ultimate cup," which became the shop's logo.
Continue reading

"The ultimate cup: Macy's European Coffee House and Bakery celebrates 40 years in Flagstaff"