Northern Arizona's Mountain Living Magazine, June 2019
Written by Gail G. Collins
When it comes to achieving a goal, the earnest will hustle in every way possible to make it happen. That's how Nancy McCulla evolved from raffling off dinners to pay college tuition to owning her catering business, Simply Delicious, and then, running Café Daily Fare. At 13 years old, she worked in a kitchen in Illinois and under the tutelage of a master German baker. The competence and confidence gained propelled McCulla to continue cooking after earning a bachelor of arts in ceramics at Northern Arizona University. Following stints in local kitchens and prepping pastry for Grand Canyon Railway, the next step seemed inevitable.
"Café Daily Fare has an eclectic menu," said McCulla. "We're a chef-driven Mom and Pop—very aware of life in Flag, the venues and what people like to eat." Her catering business is nearly 20 years strong, while the lunch spot, tucked up on the ridge above Route 66, celebrates a decade in business.
McCulla gathers international inspiration for cooking. Her Brazilian Fish Stew is an example of trial, tried and true. Though she had never visited Brazil, flavors leapt from the pages of recipe books, tempting her. The resulting stew of cod chunks, tomato, coconut milk, lime and smoked paprika ladles up alongside cilantro and cumin rice. It's lively and savory in turns. "I play, make, tweak and look for new traditions," she said. "Cuisine crosses lines globally."
The point of conviction came when Brazilian travelers ordered the fish stew and proclaimed it an authentic success. "I don't Americanize food—that's not fun," McCulla confessed.
The Chef's Favorites on the menu are guest picks as well. McCulla wanted to serve duck, so created approachable (and irresistible) duck tacos. The blackberry-marinated fowl with habanero aioli, Fossil Creek goat cheese, arugula, jicama and toasted pepitas combine for a decadent handhold. The fish tacos are fabulous, too, so go ahead and order half and half. House salad and bread or black bean salad accompany the favorites.
The sandwich list is well-traveled. The hot Italian plumbs McCulla's deli roots. It loads capicola (Corsican pork), Genoa salami, pickled red onion and tomato with Pecorino Romano for a sharp edge on ciabatta. A generous, well-dressed salad of greens, apple, avocado, jicama and pine nuts on the side builds a big lunch. Beans, greens, spices and other products are as organic and local as possible.
The Simply Delicious club layers turkey, capicola, Applewood smoked bacon, Swiss, Provolone, tomato and romaine with slathers of mayo and Dijon on sourdough. The hearty stack satisfies. The balsamic-glazed Portobello is upgraded with grilled eggplant, plus smoked onion, poblanos, roasted red pepper, pesto mayo and romaine on brioche. Boost the protein with a cup of soup, especially when the creamy quinoa—veg-filled tomato broth with garbanzo beans and pumpkin seeds—is on offer. Half sizes of sandwiches and salads are an option, and the extensive array of add-ons, ranging from cumin crusted chicken to balsamic glazed grilled steak, makes a meal of greens.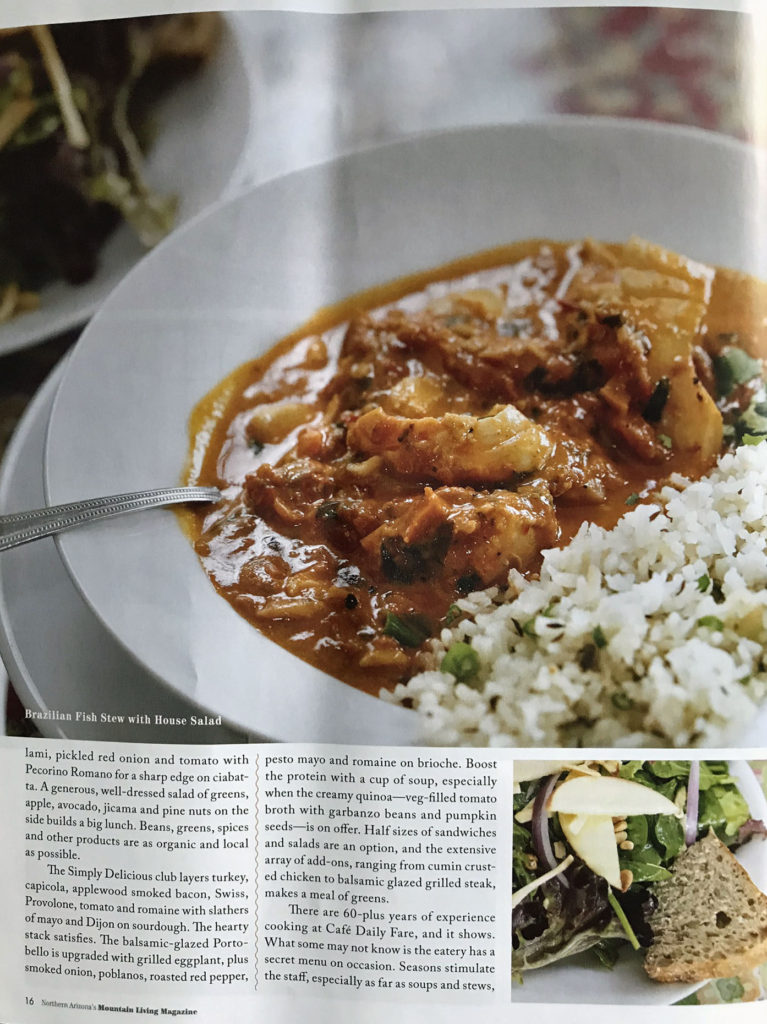 There are 60-plus years of experience cooking at Café Daily Fare, and it shows. What some may not know is the eatery has a secret menu on occasion. Seasons stimulate the staff, especially as far as soups and stews, so ask. You might be rewarded with a fun and flavorful soup flight.
Community drives Flagstaff, and McCulla pitches in enthusiastically with other restaurateurs for events such as Arizona Breweries & Veterans, Arizona Cancer Society, United Way and more. Interestingly, McCulla's caring cuisine has sparked generosity and legacy from guests in return. One sent jelly made from her Wisconsin garden. Others with no children have passed on treasured family recipes to the chef.
What began for McCulla as an avenue for funds grew into a passionate business nourishing her artistic expression through food. She reads her sauce book regularly, even taking it on vacation to browse yet again. Still, cooking is about pleasing her guests.
"Our town has a great mix of people: college students, cowboys and ranchers, locals and tourists," McCulla said. "I love a newcomer in our café—I'm happy to serve them wonderful food." NAMLM
Café Daily Fare is located at 408 W. Historic Route 66 and is open Monday-Saturday 11a.m.-4 p.m.