Northern Arizona's Mountain Living Magazine, November 2019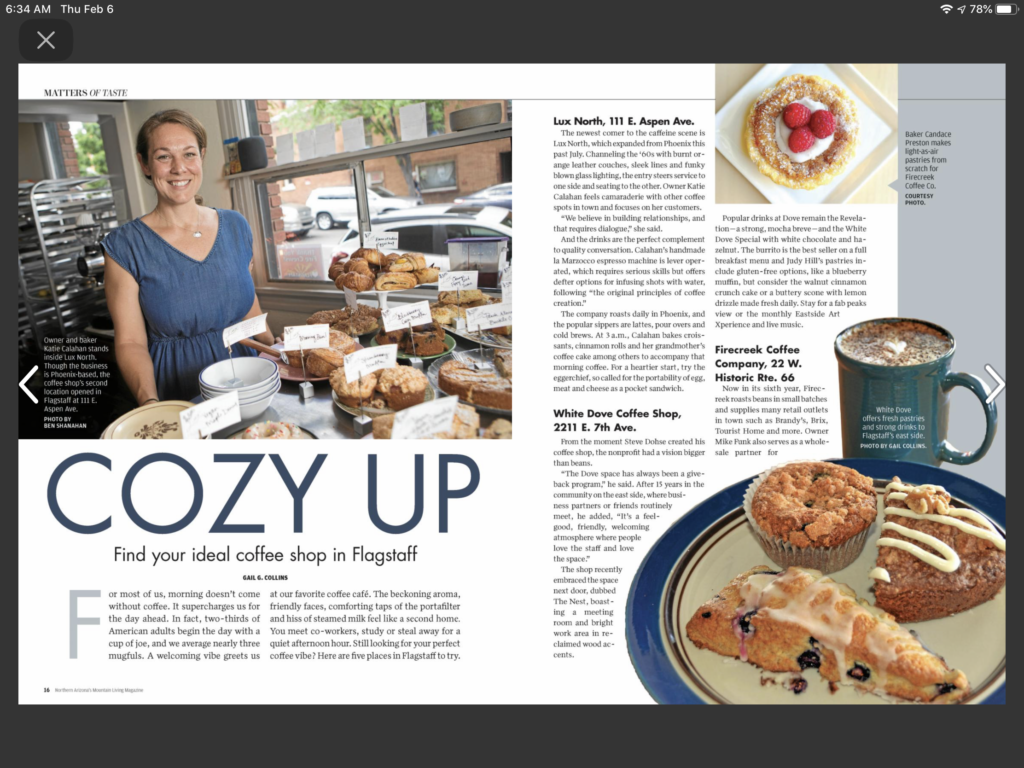 Written by Gail G. Collins
For most of us, morning doesn't come without coffee. It supercharges us for the day ahead. In fact, two-thirds of American adults begin the day with a cup of joe, and we average nearly three mugfuls. A welcoming vibe greets us at our coffee café. The beckoning aroma, friendly faces, comforting taps of the portafilter and hiss of steamed milk feel like your second home. You meet co-workers, study or steal away for a quiet afternoon hour. Sill looking for your perfect coffee vibe? Here are five places in Flagstaff to try.
Lux North 111 E. Aspen Ave.
The newest comer to the caffeine scene is Lux North, which expanded from Phoenix. Channeling the '60s with burnt orange leather couches, sleek lines and funky blown glass lighting, the entry steers service to one side and seating to the other. Owner Katie Calahan feels camaraderie with other coffee spots in town and focuses on her customers.
"We believe in building relationships, and that requires dialogue," she said.
And the drinks are the perfect complement to quality conversation. Calahan's la Marzocco espresso machine is lever operated, which requires serious skills, but offers defter options for infusing shots with water, following "the original principles of coffee creation."
The company roasts daily in Phoenix, and the popular sippers are lattes, pour overs and cold brews. At 3 a.m., Calahan bakes croissants, cinnamon rolls, and her grandmother's coffee cake among others to accompany that morning coffee. For a heartier start, try the eggerchief, so called for the portability of egg, meat and cheese as a pocket sandwich.
Continue reading

"COZY UP: Find your ideal coffee shop in Flagstaff"