AZ Daily Sun, Mountain Living Section, April 16, 2023
Story and photos by Gail G. Collins
The allure of Asian cuisine is wrapped up in its exotic, sensory elements. Some are subtle while others are stimulating. Spare meat punctuated with tastes and textures create engaging and vibrant dishes.
Freshness abounds in the veg, garnishes and flash of preparation from raw to ravishing. Ingredients, such as galangal, chili oil, peanuts, coconut milk, fish sauce, lemon grass, basil and tamarind are layered with spices and sauces. These components build appeal, aroma, and often, art.
Flavors are traditionally grouped into categories such as hot, sweet, sour, spicy, salty, bitter, pungent, astringent and umami. This broad array of notes builds a delicate harmony. The term fusion was coined in an effort to describe this Asian impact on the West.
Asia Station opened in 2018 in downtown's south side to deliver this fusion of flavors. Serving Chinese, Vietnamese, Japanese and Thai cuisine, owners Kampy and Ladda Khonphian aim to offer a little bit of everything. In essence, park at Asia Station and savor the best of Asia.
"We have kept the menu choices to what people like and have toned the heat down a little," Ladda says. "But for those, who love their spices, this is the place. We're the hot spot in town."
The hottest chili used in Ladda's kitchen is the Thai bird's eye. This distinctive red chili is small in size, but high in heat.
The couple is Thai, she from the rural northeast, while Kampy hails from Bangkok. Speaking of Thai people, Ladda says, "We are all about food—we cook and eat 24/7. In the country, we grew our own food—fresh chicken and eggs daily—cooking for friends and family with love and care."
This principle guides recipes at Asia Station, where Ladda runs the kitchen with help from their son, Vincent. Asia Station makes every dish daily with no MSG, utilizing mushroom seasoning to supply a savory umami factor. Scratch sauces present unique profiles for each dish from dips to curries.
The menu is focused to include: appetizers, such as egg, spring and summer rolls; soups of pho, miso and more; curries in red, green and yellow; stir fry noodles and rice; and entrees, such as tonkatsu or grilled pork with sticky rice; plus vegan choices.
Start with some homemade dumplings, pretty and packed with pork. Five shumai dumplings are topped with crispy garlic and cilantro and served with dipping sauce. Go ahead and spoon on some chili paste.
For sharing, the orange chicken is a winner, winner. The airy batter makes it hard to stop popping the tender morsels, slightly sweet with a citrus glaze. The pad Thai is available with chicken, tofu or shrimp or choose all three for a protein- packed dish. Rice noodles tossed in specialty sauce mixed with bean sprouts, carrots, egg, green onions and peanuts form a textured, traditional dish. The yellow curry is creamy with coconut milk, blending the elusive heat of yellow curry with potatoes, onions and fancy carrot slips. Add jasmine rice, and wipe every drip of gravy from the bowl. Regardless of the dish, the food is consistent and creative. Flavors dance on the tongue.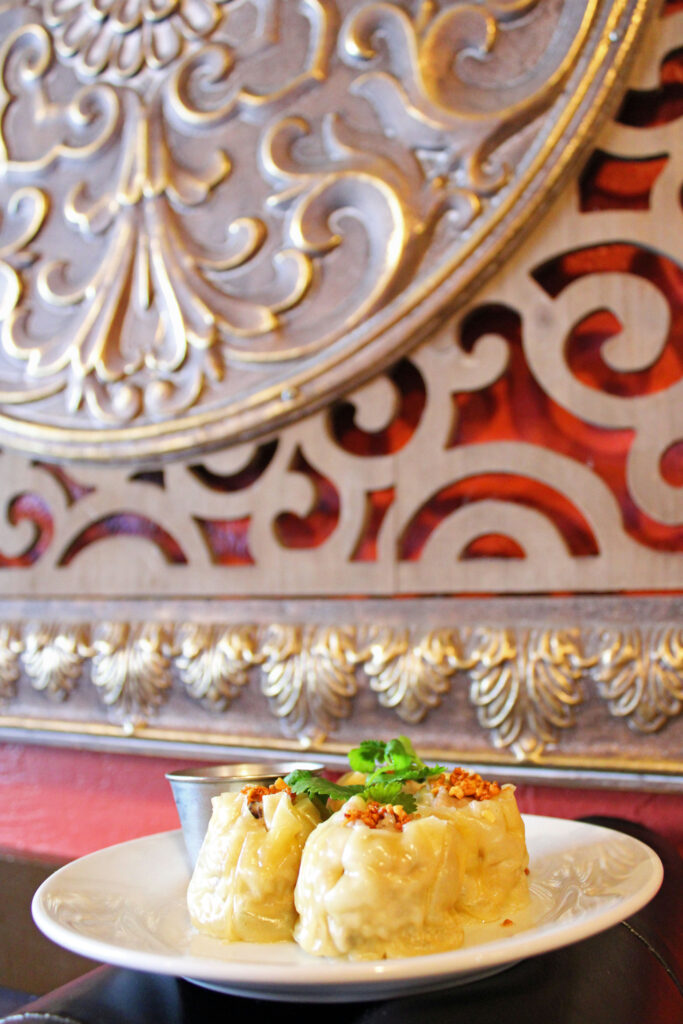 Asia Station caters mostly to local clientele, who have spread the word. Kampy shares, "Some people come in three or four times a week. It's all the love Ladda puts in. Every little thing matters."
The atmosphere is classy casual with a coffered ceiling, tall, buttoned, black leather booths flanking walls contrasted in burnt sienna. A row of small tables and a bar afford more seating. Dark wood throughout with woven wood lighting play off accent pieces—koi, a temple, Buddha, carvings and nature themes. The shop is small, yet smart, the way Asia Station's owners prefer it to stay attentive to each guest.
"You are family when you come to us; it's whey we work so hard," says Ladda. "Our customers are the judge and seem to like us very much. Try it and see what you think." NAMLM
https://azdailysun.com/flaglive/features/chow/matters-of-taste-asia-station-brings-heat-to-downtowns-south-side/article_64b5a51c-db0e-11ed-b534-bb1767f54f00.html