Northern Arizona's Mountain Living Magazine, July 2018
Written by Gail Collins
Ding, ding! The bell clanged brightly seven times. Sitting near the resort's fireplace, guests clinked cocktail glasses and smiled, while four ladies playing dominoes at a table outside set down their tiles and looked toward the lodge. Beyond them, the gentle splash of Oak Creek offered a refreshing backdrop. Earlier, the flowers—irises, coreopses, lilies and poppies—were bathed in golden light as the canyon walls burned with the sun's last fiery rays. In this respite between afternoon tea and drinks before dinner, time had hung complacent. Now, the bell summoned all from their cabins or from a stroll through the apple grove to enjoy a spectacular four-course meal at Orchard Canyon on Oak Creek Restaurant.
Folks ambled toward the century-old lodge—originally a miner's retreat—bearing a stone and log façade. Windows glowed warmly and carefree conversation spilled across an expansive lawn. Upon entering the restaurant, the tang of earth and woods were exchanged for the rich scent of garlic and roast meat, drawing diners to tables where friendships would soon bloom.
Maitre d'Hotel Michael Stober arranges the nightly seating.
"Orchard Canyon creates a European dining experience, where strangers gather at the table, slow down and indulge," he said. "They share names, then laughs, and often, phone numbers. It's a luxury of time that resonates with our guests."
The stone fireplace soars as the dining room's centerpiece. Rough wood braces and paneling rekindle rustic beginnings. Pierced tin chandelier shades and Tiffany lamps complete the enduring effect. The Todds built the property in 1902 before Gary and Mary Garland cultivated the land as a resort for nearly five decades. Their name remained with the business for two transition years before Garland's Oak Creek Lodge rebranded as Orchard Canyon on Oak Creek in 2017. Preserving the cherished landmark and its beautiful food was paramount. It succeeded; USA Today listed Orchard Canyon as a Top 10 Best Restaurant.
Seventeen bungalows are scattered over 10 lush acres, luring guests to the tranquil setting for many reasons. Some marry there, and others return regularly to celebrate the date. Dr. Rog Jenkins and his wife Dottie came from Prescott to mark 36 years of marriage as they have for a dozen previous anniversaries.
After hiking Sedona or slipping down Slide Rock, Orchard Canyon gathers guests at 4:00 p.m. for afternoon tea.
"It's a chance for the back of the house to get creative," Stober said. "Regulars take the opportunity to check out the evening's imaginative menu."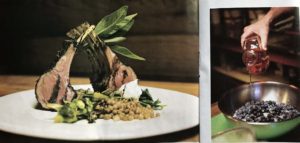 At 6:00 p.m., it's cocktail hour. Specials are always on offer, like a saffron and citrus martini or a stormy pineapple-tini, blended with dark rum. A full bar and wine menu include Arizona and Orchard Canyon bottles. A bitters project fosters a full library of 90 flavors for mixology purposes. The bar team also has gleaned the orchards, soaking Asian or damson plums in bourbon and pressing cider from 15 varieties of apples for simple refreshment.
This farm-to-table approach guides the menu in season. Besides plums and apples, white and yellow peaches, cherries and apricots are plucked from the orchards, while early greens, fresh herbs—including six varieties of basil—squash, onions, carrots, garlic and more sprout in Orchard Canyon's organic gardens.
Executive chef Michael Hawkins revels in his sixth season and collaborates with sous chef Dan Natseway on themes. They utilize a range of cultural experiences and new techniques while honoring menu traditions.
"I love to surprise guests with subtle and pleasant twists," Hawkins said.
While breakfast and dinner are included for resort guests, outside reservations need only a couple of days' notice.
Mid-week, Chef served thick, farmhouse slices of caraway rye bread, moist with cocoa powder and molasses. The bread was useful to sop up the six-lily soup—a clear broth of sherry and Chablis, caramelized onions, dill and mustard.
The salad bore a soft-boiled egg and artisan cheddar rubbed with sea salt and honey from Beehive Creamery in Utah. The textural, uncomplicated greens were fresh and dressed in five-mustard vinaigrette.
Smoked paprika, thyme, marjoram and mustard flavored the dry-rubbed rack of lamb before grilling. A medium rare roasting yielded tender morsels. The ribs bridged over pearls of fregola couscous and bright asparagus with hazelnut butter and sage leaves. The plate was as showy as it was sumptuous. A Mourvèdre wine complimented the main with rich berry contrast and slight acidity.
Warm chocolate cake floating in a pool of crème anglaise and macerated blueberries offered a perfectly delightful finish.
Crossing Oak Creek to reach the resort seems to shed life's cares.
"There is a sense of community here, and the workforce is more family, and that shines through in our experience with the guests," said Hawkins. NAMLM
Orchard Canyon on Oak Creek, 8067 N. State Route 89A ,  Sedona, Arizona 86336, is open seasonally from March-November. Call (928) 282-3343 or visit www.enjoyorchardcanyon.com to make a reservation.