Best of Flagstaff 2018
Written by Gail G. Collins
When Lisa Muscarella traveled with her children to Atlanta for a chess tournament, starting a new business was not on her to-do list. The wife and mother of four already met specialized needs at home alongside a demanding job. Eating out is a necessary luxury at times, but value drove Lisa to research meal options before that trip. She found a company catering to families first and serving delicious, nutritious food at affordable prices. Your Pie hand-tossed pizza, customized with the freshest ingredients fit the bill.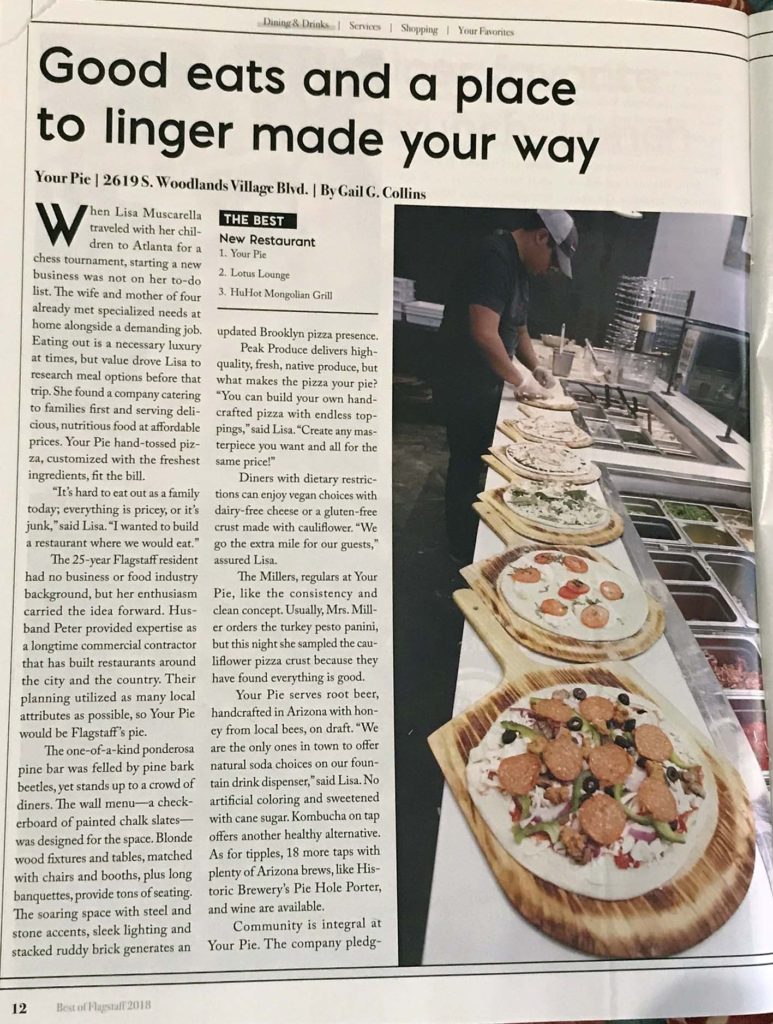 "It's hard to eat out as a family today; everything is pricey, or it's junk," said Lisa. "I wanted to build a restaurant where we would eat."
The 25-year Flagstaff resident had no business or food industry background, but her enthusiasm carried the idea forward. Husband Peter provided expertise as a longtime commercial contractor, who has built restaurants around the city and the country. Their planning utilized as many local attributes as possible, so Your Pie would be Flagstaff's pie.
The one-of-a-kind ponderosa pine bar was felled by pine bark beetles, yet stands up to a throng of diners. The wall menu—a checkerboard of painted chalk slates—was designed for the space. Blonde wood fixtures and tables, matched with chairs and booths, plus long banquettes, provide tons of seating. The soaring space with steel and stone accents, sleek lighting and stacked ruddy brick generates an updated Brooklyn pizza presence.
Peak Produce delivers high quality, fresh, native produce, but what makes the pizza your pie? "You can build your own handcrafted pizza with endless toppings," said Lisa. "Create any masterpiece you want and all for the same price!"
Diners with dietary restrictions can enjoy vegan choices with dairy-free cheese or a gluten-free crust made with cauliflower. "We go the extra mile for our guests," assured Lisa.
The Millers, regulars at Your Pie, like the consistency and clean concept. Usually Mrs. Miller orders the turkey pesto panini, but this night sampled the cauliflower pizza crust because they have found everything is good.
Your Pie serves root beer, handcrafted in Arizona with honey from local bees, on draft. "We are the only ones in town to offer natural soda choices on our fountain drink dispenser," said Lisa. No artificial coloring and sweetened with cane sugar. Kombucha on tap offers another healthy alternative. As for tipples, 18 more taps with plenty of Arizona brews, like Historic Brewery's Pie Hole Porter, and wine are available.
Community is integral at Your Pie. The company pledges aid to end childhood hunger. From the day ground was broken for Your Pie, Lisa gathered community, building both a restaurant and a family of followers. A free pie donation party on Opening Day in June sealed a happy bond with pizza lovers. When it came time to vote for Flagstaff's best, Lisa neglected to request support. Your Pie's loyal fans voted it Best New Restaurant anyway.
Stopping by for a quick meal is no problem. Your Pie's wood-fired custom oven cooks pizzas in about four minutes. As proof, two Guardian ambulance crews clustered around tables on a weeknight for a fast, wholesome supper.
Still, you're invited to linger at Your Pie. Televisions catch up diners on the sports scores or serve presentation purposes. That night, folks played board games, and an impromptu birthday celebration arrived, balloons and gifts in tow. Those seated around the fire pit called out for another round of drinks.
"Good food and the good community of family and friends is the ultimate combo," said Lisa with a smile. AZDailySun
2619 S. Woodlands Village Blvd.