FlagLIVE!/AZ Daily Sun, August 12, 2021
Written by Gail G. Collins
When it comes to our small town, the flavors are huge. Independent restaurants make the most of familiar foods or regional cuisine by dishing up imaginative and innovative items that earn a loyal following. It's all part of local love.
COFFEE or BREAKFAST
Firecreek Coffee
22 W. Historic Rte. 66
Coffee supercharges us for the day ahead. In fact, two-thirds of American adults begin the day with a cup of joe. Firecreek roasts beans in small batches and supplies many retail outlets in town, such as Brandy's, Brix, Tourist Home and more. Everything, from the syrups, in flavors like ponderosa vanilla or salted cardamom, to the chai and the pastries, are made from scratch—ranging from graham-dusted s'more macarons to muffins and light-as-air strawberry cream puffs. While Firecreek may be priced slightly higher than some of the bigger shops in town, owner Mike Funk said. "We value quality over quantity and spend a lot on our groceries. If we can make it taste better, we spend the money."
Macy's European Coffeehouse and Bakery
14. S Beaver St.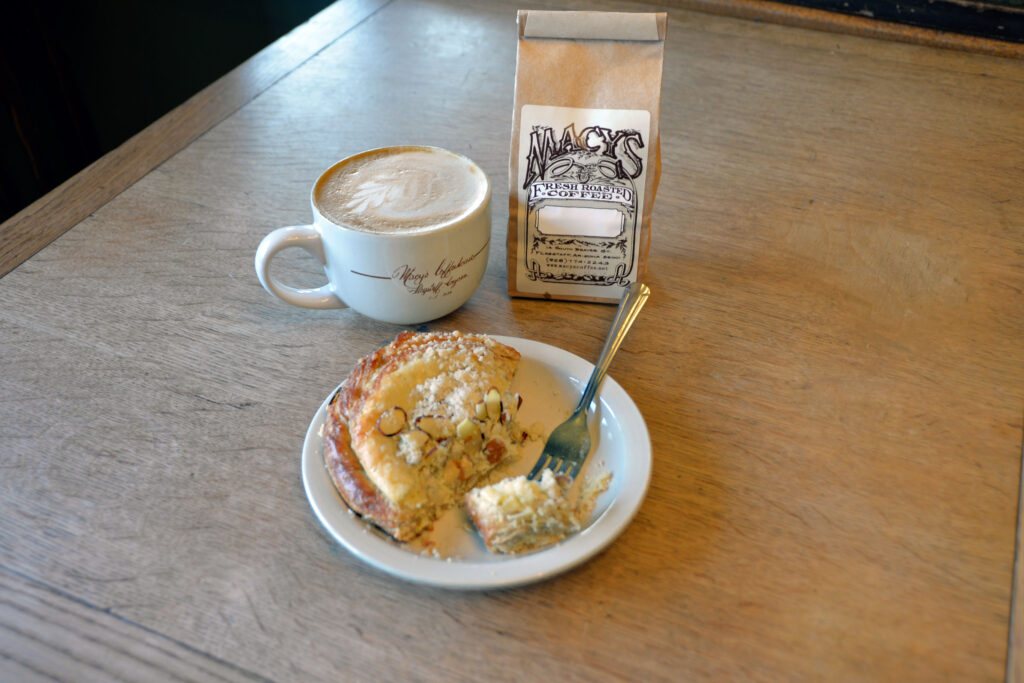 Veteran coffee house, Macy's celebrated 40 years in 2020 living up to its claim as "the ultimate cup." Tim Macy was among the first roasters in Arizona, tempting drinkers with a traditional Italian darker style, and sources small farmers to pay above fair-trade prices. "Staff is family and our locals are our lifeblood," he said. The Macy's Special is the top drink, made with espresso, hot chocolate, whipped cream and sprinkles, served hot or iced. Alongside a full vegetarian breakfast menu, the pastries have been baked from scratch daily since 1980 with no preservatives, dough conditioners or stabilizers.
Brandy's Café
1500 E. Cedar Ave., #40 & 18 S. Beaver St.
After 27 years in business and a transfer of ownership to Kelsey and Jamie Drayton in 2014, Brandy's has not merely remained strong, but grown their landmark breakfast business. It consistently wins awards for its food and service, where customers have become supportive friends. Kelsey Drayton, who had worked for original owners Ed and Brandy Wojciak since age 15, constantly seeks feedback to keep things fresh, yet consistent, like their biscuits and gravy. The most popular offerings are the Eggs Benedict choices, especially the Eggs Brandy with two poached eggs on a handcrafted bagel, topped with house-made hollandaise sauce and a buttermilk pancake plus their signature country potatoes. And for brunch, a mimosa is a must.
BURGERS
Diablo Burger
120 N. Leroux St.
DB burgers are made from six ounces of 100% local, open range-raised, antibiotic- and hormone-free beef from the Diablo Trust ranches and char-broiled to order. Served on an English muffin with McClendon Farms seasonal greens, tomato, pickle and frites, the monk straight no-chaser is a classic. Beyond that, indulgent ways to dress your meat include names, such as the Blake with Hatch chili mayo, roasted chilies and sharp cheddar while Traveling Wilbury's tops it off with sautéed cremini mushrooms, curry mayo and chili flakes. Order a basket of frites with a choice of Hatch chili or sriracha mayo, ranch chimichurri, coffee BBQ, special sauce or Rising Hy honey mustard sauces for dipping.
Mama Burger
991 N. Fort Valley Rd.
After a decade, crafting vintage and trendy burgers has earned them the patronage of neighbors, schools and the medical community. With a win in 2019, they doubled down as the Best Burger in Flagstaff in 2020. The throwback to a traditional diner smashes fresh meat on a flat-top griddle. The namesake burger is the most popular menu item, made with house sauce, lettuce, tomato, grilled onions, American cheese and pickles. The MOAB, or Mutha' Of All Burgers, is built on a foundation of two patties, packed with French fries, tomato, lettuce, grilled onions, green chilies, bacon, cheddar cheese, house sauce, pickles and jalapeños. The burgers are a bargain as handcrafted goods, ranging from less than $5 to $7.50 for the MOAB.
PIZZA
Pizzicletta
203 W. Phoenix Ave.
PIzzicletta is owned by avid cyclists Caleb Schiff and James Worden, and the name is word play on pizza and the Italian word for bicycle. So the story goes—after 40 days cycling in Italy learning about the cuisine, Schiff built a pizza oven in his backyard. The adventure in good food had just begun, and the pizzeria is known for its naturally leavened sourdough crust with leopard spotting. Intriguing ingredients and combinations make every day a pizza possibility. The carne dolce is topped with house made mozzarella, mascarpone, spicy sausage, local honey and sage for sweet heat or order a pizza party to make and bake at home with mozzarella, sauce and a choice of two ingredients plus 16 ounces of the daily gelato. And if you're on the town, tipping one back at Dark Sky Brewing, Pizzicletta serves up slices there, too.
TACOS & MORE
MartAnn's Burrito Palace
112 E. Route 66.
It's the House that Chilaquiles Built. So, what are chilaquiles? The idea is based on every mama's ingenuity in utilizing leftovers. The word chilaquiles means "broken-down, old hat," referring to the mounding incorporation of last night's dinner. Traditionally, corn tortilla chips are piled with meat and beans, and then, slathered with any sauce on hand, which softens the mass, before it is topped with an egg. It's that simple and variable a breakfast dish. So, pull out a carved chair painted with birds in rainbow hues and start ordering. Menu items are named after guests, like J.B.'s Volcano, a mini mountain of chilaquiles topped with pork green chili, chorizo and sour cream, served with an over-medium egg.
Alejandro's Mexican Food
6 E. Aspen Ave., #120
Alejandro's, named for Georgette Quintero's oldest son, began as a food truck in the fall of 2017. Reputation increased the reach to two trucks, and the brick and mortar store opened recently on Heritage Square. Upscale presentation of familiar fare includes signature carne asada, plated as steak with rice, beans and a garnish of spider-sliced peppers. House burros, chimichangas, tacos or tostados are stuffed with a choice of carne asada, carnitas or pollo, and come fully loaded with extras, like guacamole, plus rice and beans. The trendy birria taco is sweet, sour, spicy and savory slow-cooked beef or try classic ceviche. The flan is a distinct recipe of smooth custard, strawberries, chocolate sauce and fresh whipped cream. It's almost too lovely to eat, but too marvelous to miss and sip on a handmade horchata.
ASIAN
Go Sushi
1411 S. Milton Rd.
Charlie Chortabtim, who has worked in television and under a Michelin-starred chef, ran culinary teams and suffered the tyranny of secretive chefs, came to Flagstaff for a bit of fun and artistic innovation. Partnered with Apple Krathinthong, the Asian eatery offers a Zen garden ambience. Quality matters, and the red curry is a creamy, fragrant example of authentic elements with coconut milk, lemongrass, shaved chicken, slip-thin carrots and green beans. It is Thailand in a bowl. The Indy Jones is a colossal mass built on wrapped big-eye tuna and premium grade salmon, crab, avocado and cucumber with pango scallops, resembling boulders that could tumble down as in the movie. Strewn with scratch sriracha mayo and tobiko eggs, the plate presents a delicious spectacle. Go sushi!
Red Curry Vegan Kitchen
8-10 N. San Francisco St.
Stalwart restaurateur Chada Tirakul created a menu of Vietnamese, Thai and Indian-spiced dishes for the first vegan eatery in downtown. Mussamun curry combines potato, onion, carrot, spinach and cauliflower in slightly sweet, ground-peanut gravy. Yen-to-fo soup is a popular street food in Thailand, made with spinach and three types of tofu—firm squares, curds and baked, Portobello clones—floating in a spicy bean paste broth with a tang of vinegar plus rice noodles. The kale salad is simple and a simply delish mix of red and green leaf lettuce tossed in lemony olive oil with red onion, dried cranberries, avocados, cucumbers, tomatoes, sunflower sprouts and pepitas for a zesty mouthful. The fun and funky décor of chandeliers and photography makes it a great spot to test your taste buds.
LATE NIGHT BITES & COCKTAILS
The Mayor
101 S. San Francisco St.
The Mayor gets the youth vote, with its proximity to NAU and retro revival. With velvet lounge seating, shag carpeting and burnt orange accents, they aim to be a portal in time. Hang out on the rooftop patio with a throw-back vibe. Choose carne asada, green chili pork or chicken guajillo chicken tacos or bowls or a Sonorran hotdog wrapped in bacon with jalapeño, charro beans, pico de gallo, mustard and mayo. A full complement of cocktails are a "blast from the past," like the barracuda—Ole' Smoky blackberry moonshine and Mayor High Life beer—or an "adulating" old fashioned— Jim Beam Bourbon plus Jim Beam Orange with bitters, filthy cherry and simple syrup for the perfect night out.
Aloha Hawaiian BBQ
16 E. Rte. 66, #103
When you step into Aloha BBQ, you may be greeted with lilting rhythms and ukulele. It doesn't stop there. Islanders, who work there, lend an honest, warm welcome along with authentic tastes. Aloha BBQ's mixed plate is a round-up of chicken, beef and short ribs. All meat is hand-cut and marinated in a teriyaki blend before grilling. The barbecue sauces are scratch-made, and the recipes are personal with a sweet edge. Chicken katsu is a popular dish. Crispy, juicy fried chicken crosses every international boundary, and a cutlet crusted with panko crumbs is perfect pairing with a variety of sides from creamy macaroni salad to dumplings to deep-fried macaroni and cheese. Open later than other restaurants, traffic happily goes in their direction.
AZDS
https://azdailysun.com/flaglive/features/chow/where-to-eat-like-a-flagstaffian/article_78be6d67-5373-50ef-b1f4-c6736f9d67e2.html#tracking-source=article-related-bottom