Northern Arizona's Mountain Living Magazine, January 2023
Written by Gail G. Collins
Any time is the right time for breakfast. Whether it's in the wee hours of the morning with Greek yogurt and anti-oxidizing berries or a brunchy feast with protein-packed steak and eggs, our body eagerly awaits the energy to power us forward. Eating kick-starts our metabolism from snoozy to food-fueled thermogenesis to burn the food we consume. One small bite increases rhythmic contractions and gastric juices in the digestive tract, and it all happens involuntarily. Still, that doesn't mean we shouldn't engage our brains to make the meal count. New Year, new you. Start with a wholesome breakfast.
In 2008, celebrated Chef Aaron May and Plated Project partners created a restaurant where they wanted to eat. "Nothing gimmicky," May says. "I was craving good, old fashioned, scratch cooking."
Over Easy opened in a repurposed Arcadia Taco Bell, and the fulfillment of breakfast-brunch fantasies took flight. The menu wowed Phoenix critics, and Food Network's Guy Fieri of Diners, Drive-Ins and Dives soon crowded the kitchen to learn May's secret to red-eye gravy. The rest is an expanding story of outstanding eats and added locations.
The licensed franchise is an Arizona concept with 11 sites throughout the Valley with new spots in Gilbert, Mesa and Queen Creek plus four metro stops to come. Fortunately, Flagstaff made the list four years ago.
The brekkie phenom caught the attention of Food & Wine, Condé Nast Traveler, Sunset and USA Today with stints on foodie shows, such as Cooking Channel's "Food Paradise" and Learning Channel's "The Best Thing I Ever Ate".
According to partner Ryan Field, "Over Easy makes a bigger splash in smaller markets." The secret? "We endeavor to create great experiences."
With yolk yellow and aqua contrasting colors, it's a light, bright space. A long bar with 50s-style barstools and a wall of windows welcomes guests—Good morning, Sunshine!
The idea is a Chicago diner-driven neighborhood place. "We wanted to duplicate the old school, hand-sliced bacon, crack-every-egg, creative, lively concept," Field says, "a place where we would want to go."
Aaron May developed a menu of comfort items elevated with culinary inspiration and Midwest roots. May began cooking at 15 years of age, joined a culinary arts programs and gained experience and a skillset in kitchens from Paris to New York City to Scottsdale.
The scratch kitchen sources locally-crafted sausages, Press Coffee and eggs from Hickman's Family Farms.
"The waffle dogs put us on the map," Field says. The skewered sausage link is dragged through thick waffle batter before frying. Served with syrup, berries and a snow-scape of powdered sugar. It's carnival food at its breakfast best. Add a drop of Cholula and see what all the fuss is about.
Alongside other As-Seen-on-TV items, try banana-nut French toast made with brioche, griddled and topped with pecans, bananas and luxurious caramel sauce or hand-battered chicken-fried steak with homemade country gravy, two eggs and a choice of potatoes. Although the home fries, tater tots and sweet tots are tasty, May recommends hash browns.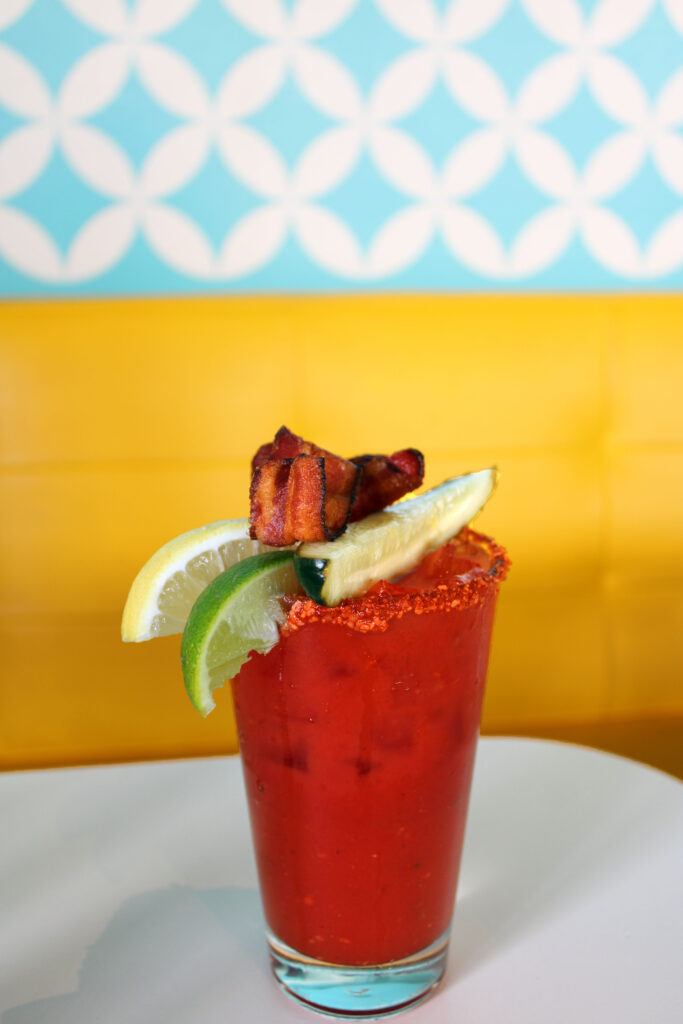 Favorites include braised pork with two sunny side eggs, hatch chile sauce and savory parmesan grits. Or try three eggs any style atop chopped sirloin with caramelized onion, jalapeño and potatoes. The Hawaiian LoKo MoKo stacks a sunny side egg on a six-ounce beef patty, strewn with crispy onions, mushroom gravy and rice.
Still, a diner is judged by its hotcakes. The lemon ricotta pancakes are airy, laced with citrus and scattered with berries.
From a short list of Benedicts, the avocado is a green choice with split halves covered in pico de gallo and feta hollandaise with fresh fruit.
Thinking lighter? Try a protein bowl with two sunny side eggs, red-green peppers, red-white quinoa, chicken sausage, grape tomatoes and arugula.
Over Easy may be a power breakfast, but it boasts daytime cocktails. The freshly squeezed OJ is tangerine in color—sunshine in a glass—but they conjure mature quaffs to up the game. Paloma mixes tequila with organic grapefruit juice and soda. Hey Ho, Let's Go is a Jameson Press cold brew with Averno amaro and Kahlua. The bloody kicker blends Arcadia horseradish and jalapeño vodkas, five-pepper bloody mix, bacon, pickle, lime and dips the rim for a spicy sip and a bite.
Winter added new choices with Johnny cakes and protein pancakes, avocado toast and an espresso martini.
At Over Easy, philanthropy is a team effort to support United Food Bank. Every guest donation is matched by the restaurant plus a dozen eggs from Hickman's. Before the annual giving was totaled, $18,582 and 9,291 dozen eggs had been contributed.
Guests return to Over Easy for the unique, homemade combinations they've not found elsewhere. What are you waiting for this New Year? Every dawn brings a new opportunity to eat well. NAMLM
https://azdailysun.com/flaglive/features/chow/matters-of-taste-brekkie-phenomenon-over-easy-serves-up-protein-packed-power-meals/article_c6984cba-8d27-11ed-aa0d-97a19b25ef86.html