99 Things To Do in Northern Arizona
Story and photos by Gail G. Collins
When Route 66 vanished from road atlases, it was the second blow to small towns like Winslow. Its heyday sparked in the 1880s as a railroad town, but by 1960, engines stopped rolling down the rails. Then, the completion of Interstate Highway 40 in 1977 also sidelined communities, threatening livelihoods. Could an idea and action put that famous road and its historic towns back on the map?
The Mother Road had sidled past pine forests, volcanoes, painted deserts and more as it crossed Arizona, and in 1985, a guardian angel began to organize towns to invite folks to visit. Angel Delgadillo, a barber, is credited with reviving the spirit and nostalgia of road trips and Americana to Route 66. Still, it took dedicated groups in these small towns to clean up and restore their main streets.
Then in 1972, the Eagles sang about "standing on a corner in Winslow, Arizona" and a flatbed Ford. It was a throwaway line from Take it Easy, but it became an invitation to the town. Build on it.
That's exactly what Sonia and husband Gary Ybarra did alongside her father Ray and his wife Kelli Martinez. Before Sonia retired from her career in healthcare, she began part-time work on Main Street as a distraction while Gary was away on construction jobs. The bustle of tourists surprised her, and the state of buildings on cross streets in the historic center bothered her.
She thought, "Maybe, I'll open a little café down there some day…"
When the building became available, the thought became action. They could create a bed and breakfast above to provide income to renovate the downstairs. In the fall of 2019, the Flatbed Ford B & B opened, inviting guests to "sleep on the corner." Then, a year of hard work began below. Both families, including children, and an uncle in the plumbing business, gutted the place and refaced it.
"It's been a labor of love and a good bonding thing with my father. Always far away on business, I've seen more of him in the past year than in the past 50," Sonia joked.
The building has its own story, of course. Built in 1908, proprietor J. W. Marley ran the City Meat Market with choice steaks selling for 25 cents per pound. The Bow family from China ran it as a grocery until 1976 and raised five children. The apartment provided rent, operated as a medical clinic and the Union Fuel and Transfer Office.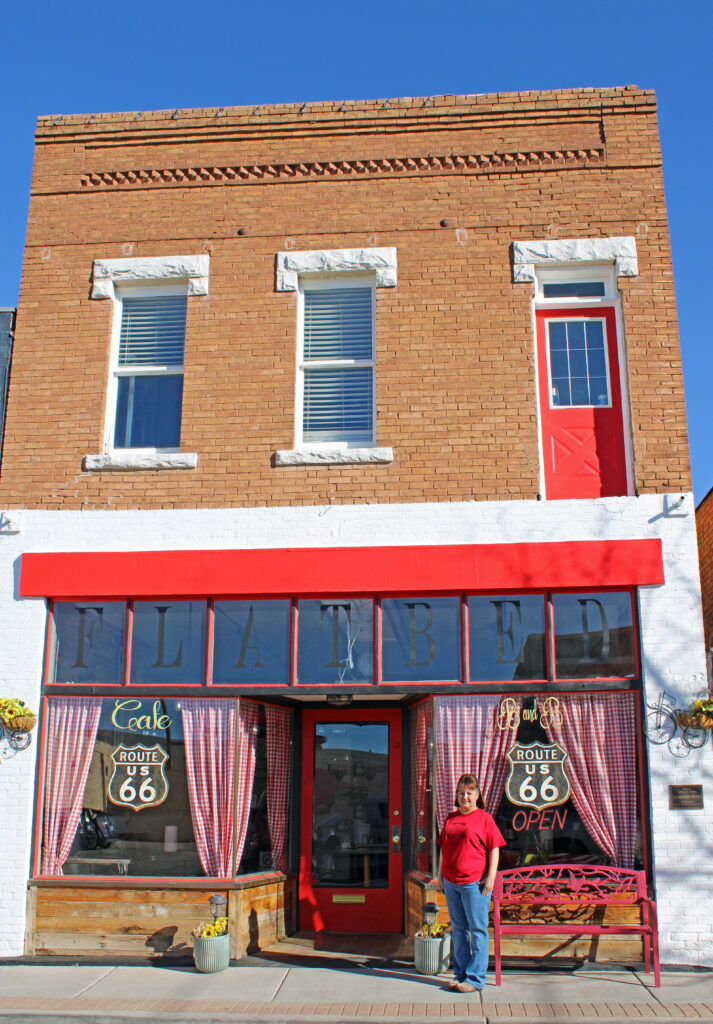 Flatbed Ford Café straightened its red-checked curtains and opened its doors in August 2021. Route 66 signs and memorabilia punctuate the place, plus hand-glazed tables and wood rescued from fencing on Martinez's property.
"I wanted a nice restaurant, where everyone can come in, eat, drink coffee, be happy and feel at home," Sonia said. "I wanted to accommodate the local community, win them over. Tourists are a benefit."
Continue reading

"Eating on a corner in Winslow, Arizona: Flatbed Ford Café serves up classic home-cooked fare"